Christmas Wine Box from Big Green Egg & Swig
£ 113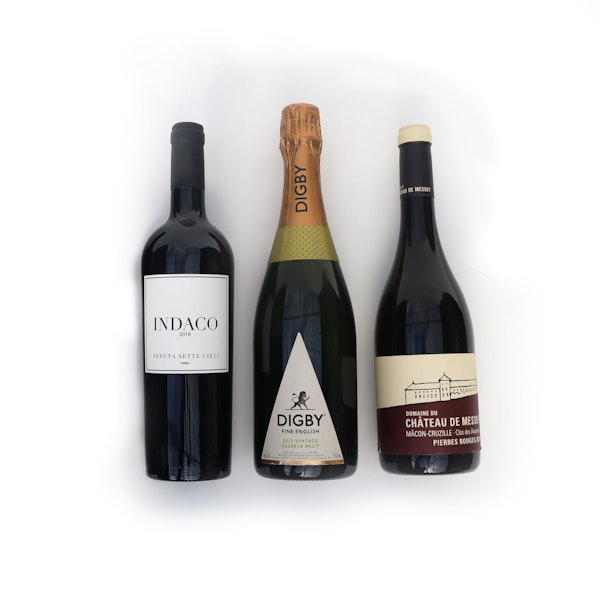 Christmas Wine Box from Big Green Egg & Swig
This is our Big Green Egg & Swig wine collection!
£113, Save £30 RRP £143
What's in the box?
1 x Indaco, Tenuta Sette Cieli, Tuscany, Italy, 2018 (red)
1 x Mâcon-Cruzille 'Clos des Avoueries' Monopole, Chateau de Messey, Burgundy, France, 2021 (white)
1 x Vintage Brut, Digby, Sussex, England, 2013 (sparkling)
You've got all the ingredients and recipes you need for a perfect Christmas spread. You've got a Big Green Egg to elevate those ingredients to unsurpassed heights. What you need now is an equally refined wine selection to wash it all down. Our friends at Swig – a specialist online wine retailer with a passion for seeking out undiscovered wines that punch above their weight – have come up with three bottles guaranteed to make your Christmas Day even more special. They've chosen the wines to pair with three of our Christmas recipes, including Tom Booton's magnificent new Rib of Beef, but whatever you're cooking, this beautifully balanced wine collection will give you something to smile about.
Code: AC7218
Indaco, Tenuta Sette Cieli, Tuscany, Italy, 2018 (red)
BEHIND THE BOTTLE: This is an outstanding blend of cabernet, merlot and malbec from a small Tuscan estate: silky, deep and concentrated with fine structured tannins and notes of mocha, espresso and blackberry jam. From the next hillside over from Sassicaia and Ornellaia, and just above Gaja, this is the new star of the area. Brilliant with Rib of Beef.
PAIRS WELL WITH: Tom Booton's Rib of Beef with Mustard, Onion Marmalade and Bone Marrow Gravy.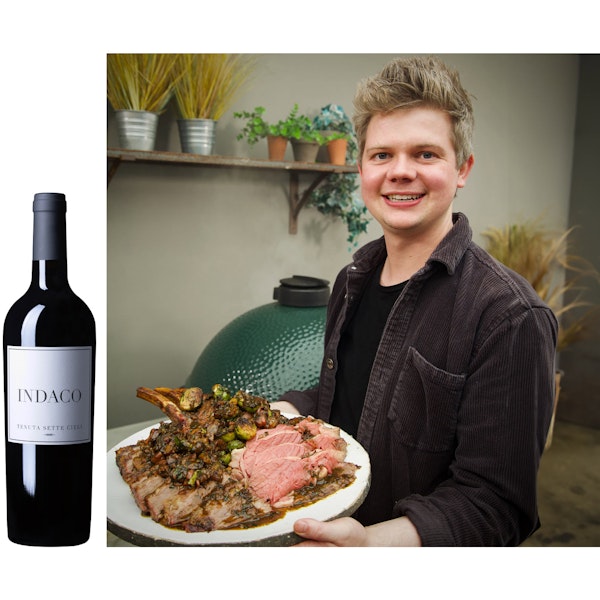 Mâcon-Cruzille 'Clos des Avoueries' Monopole, Chateau de Messey, Burgundy, France, 2021
BEHIND THE BOTTLE: This exceptional white from the Chateau de Messey estate in southern Burgundy offers lovely silkiness and length, balanced by a crunchy mineral bite and rounded, flowing palate. A superb vineyard that makes wines quite Montrachet in style.
PAIRS WELL WITH: Roasted Butternut Squash, a showstopping vegetarian centrepiece for Christmas Day.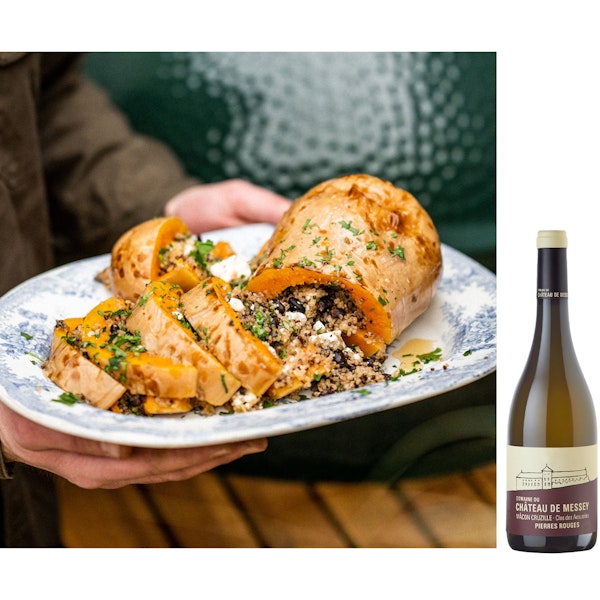 Vintage Brut, Digby, Sussex, England, 2013
BEHIND THE BOTTLE: Named 'Supreme Champion' at the Wine GB Awards 2023, this English sparkling wine is zippy and sherbety on the palate, with notes of lemon curd, brioche, meringue, anise and pear, and a lifted finish that really lingers. Winner of best sparkling wine for two years running at Wine GB Awards, and has beaten the famous Champagnes Dom Perignon and Krug at a blind tasting at 67 Pall Mall, conducted by Steve Spurrier.
PAIRS WELL WITH: Smoked Salmon Crumpets, the perfect Christmas Day brunch.