LOCK IN HEAT
The gasket on your EGG is essential for locking in heat. Although it is designed to last for years and can withstand temperatures of up to 500˚C, over time it will begin to show signs of deterioration and need replacing. Here's how.
To undo the main carriage bolts at the back, you'll need:
⅜" ratchet and extension bar
½" (13mm) deep socket
OR
½" (13mm) spanner
To undo any nuts on brackets, hinges and handle you'll need:
7/16" (11mm) deep socket
OR
7/16" (11mm) spanner
If removing from a Nest, you'll also need:
10mm spanner and crosshead screwdriver
Remove the dome
Open the dome and remove the springs from either side. Next, with the dome closed, undo all the nuts on the side brackets and hinges. Pull the fixtures off the studs (they will just hang down). Carefully remove the dome and place to the side.
Scrape, remove, clean, repeat
Put a towel over the base and place the dome upside down on top of it. Peel off the old gasket. Use a utility knife to scrape away as much residue as possible. Use coarse sandpaper to remove any that remains. Wipe with a small amount of white spirit and leave it to dry.
Place the new gaskets
Starting back left, begin placing the new gasket ensuring it is aligned all the way around. Give the gasket a rub to help it stick better. Cut the end (a tiny overlap is fine, but don't undercut it). Lift the dome out and place it somewhere safe. Repeat the process with the base. Removing the old gasket, scraping, cleaning then carefully placing the new gasket (again starting top left).
Don't forget to realign
Place the dome back on the base. Connect all the brackets and hinges but don't tighten them yet.
Ensure your dome is perfectly aligned with the base. You want all the dots to sit on top of each other.
Once you are happy it is aligned, tighten all the nuts and carriage bolt nuts at the back, and re-attach to your Nest (if applicable).
Open the dome and put your springs back on. Close the dome and check all the way around that there are no gaps.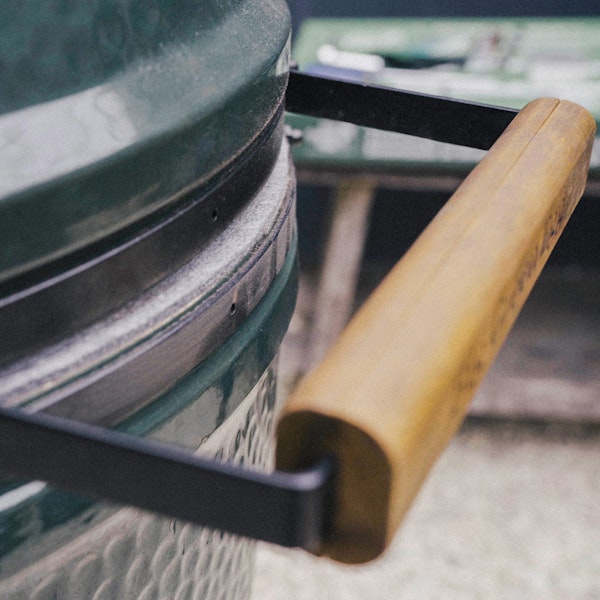 Big Green Egg Servicing
If replacing parts on your EGG feels a little daunting, hand over to the experts. To book a service, e-mail us at info@biggreenegg.co.uk (with 'Servicing' in the subject line), including your address and a photo or two of your EGG.