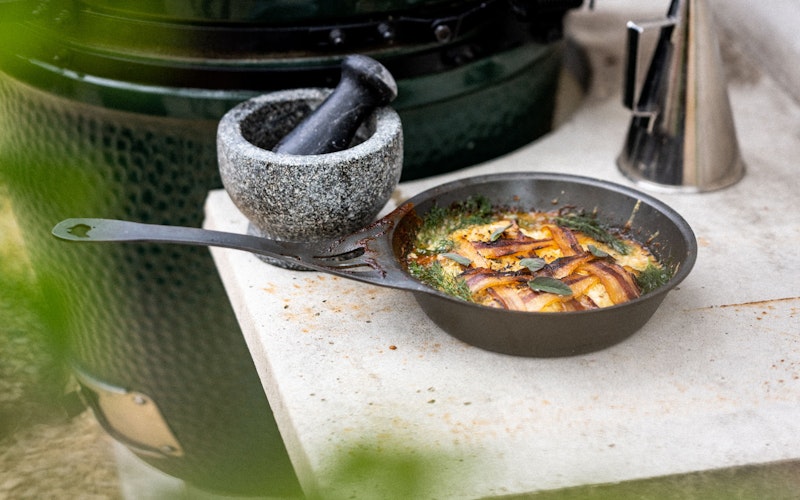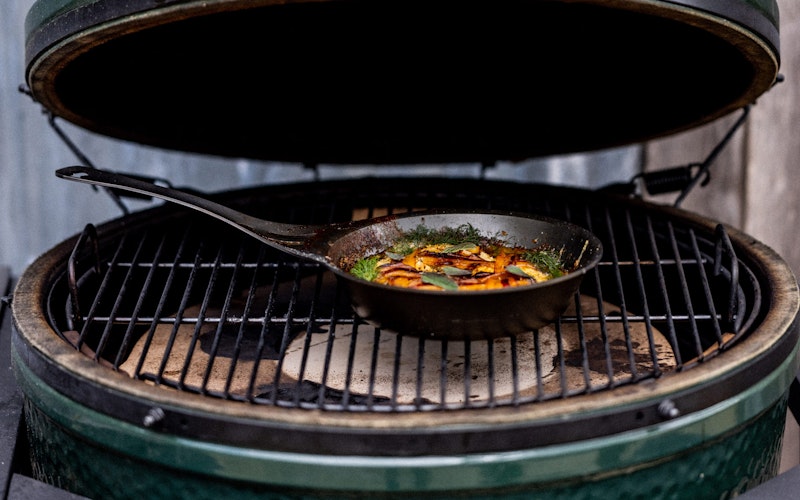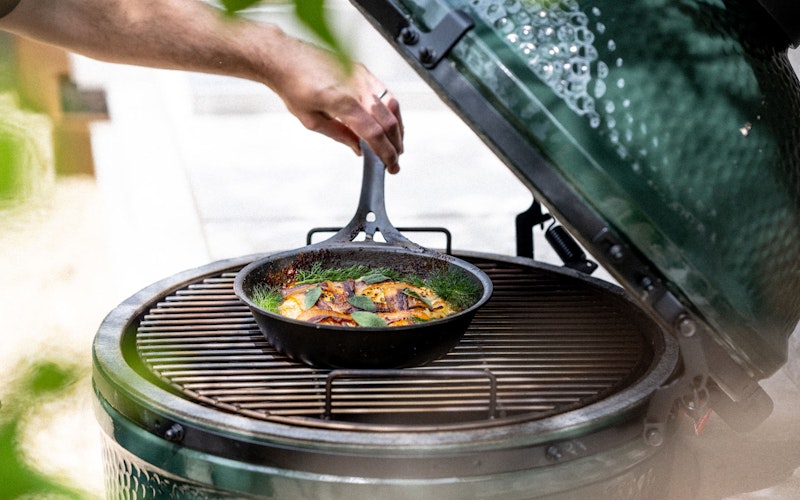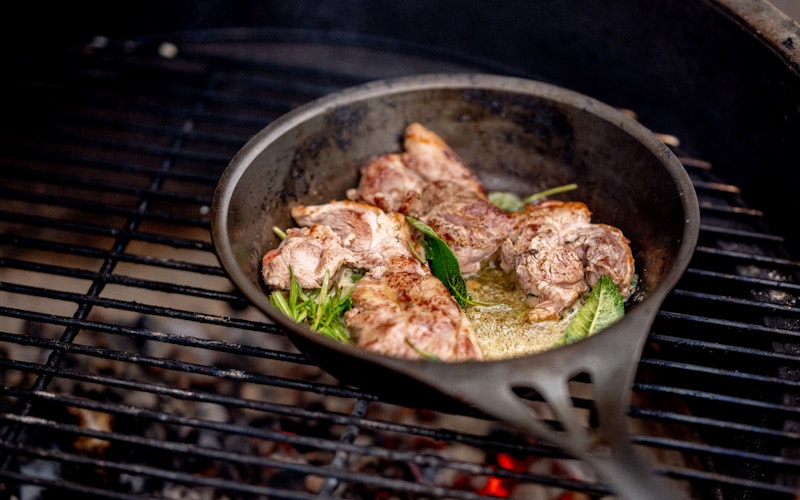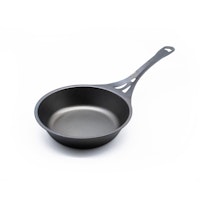 Solidteknics Iron Sauteuse Pan
£ 109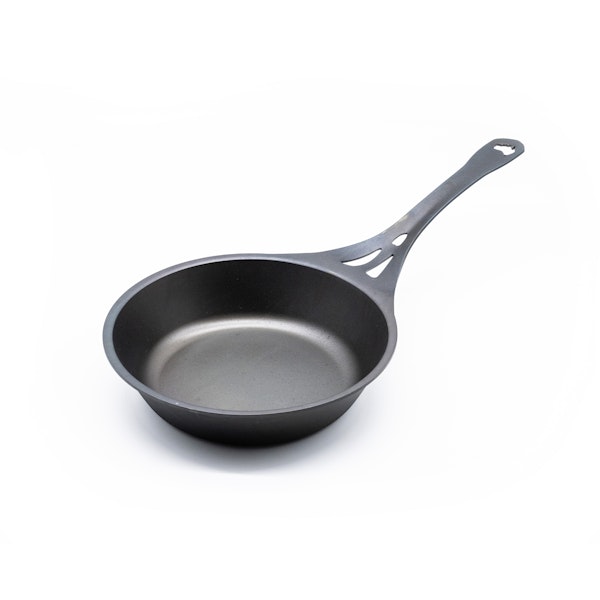 Solidteknics Iron Sauteuse Pan
Having gained a worldwide fanbase, Solidteknics cookware is now available in the UK for the first time and quickly making its mark. The pans are wrought from a single sheet of iron. Free from toxins, heavy metals or synthetic coatings, they are durable enough to last for centuries, whether you use them in your kitchen on a gas, induction or electric hob or outside on an open fire or Big Green Egg.
This 22cm pre-seasoned pan has deeper sides than our standard skillet. It's ideal for one-pan meals such as frittatas or for shallow frying, but you'll find yourself using it every day for all sorts of tasks, from baking to small roasts.
These pans require maintenance and seasoning after regular use, click here for more information.
Fits on the XL Big Green Egg only
Code: ST-Q122s
NATURALLY NON-STICK
No chemical coatings here! This Solidteknics pan has been pre-seasoned with rice bran oil to create a strong, inert, all-natural non-stick cooking surface that will improve with use.
BUILT TO LAST MULTIPLE LIFETIMES
This pan is made from wrought monobloc iron, which is as durable as cast iron but half the weight. Each pan is created from a single sheet of iron: no joins, no screws, no rivets. This makes them easier to clean and maintain and adds to their longevity. That's why all Solidteknics pans come with a multi-generational guarantee.
PANS THAT CAN HANDLE THE HEAT
Thanks to impressive conductivity and heat retention, Solidteknics pans are capable of performing at the very highest of heats. The double handle makes it easy to carry from EGG to table. Ideal for both domestic and professional use, which is why they have taken Australia, the US and South Korea by storm.
SUITABLE FOR ANY HEAT SOURCE
As well as being well suited to the Big Green Egg, these Solidteknics pans can be used on any other heat source such as:
Open fires
Hot plates
Electric hobs
Electric ovens
Induction hobs
Gas hobs
Gas ovens
They are also attractive enough to be taken straight to the table.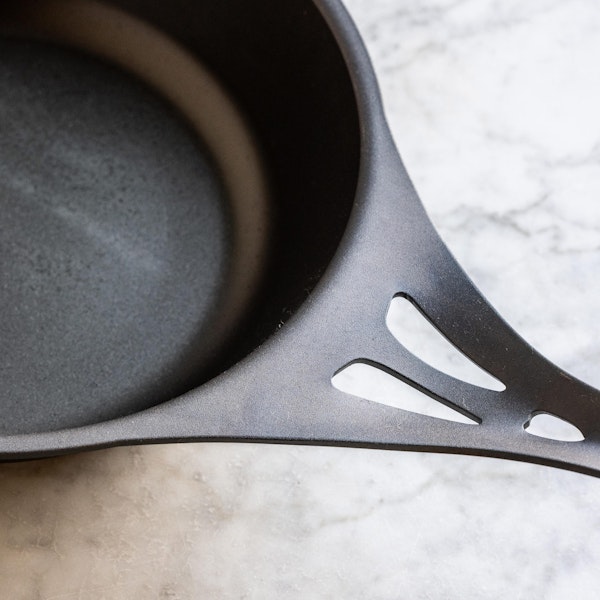 FAQs
Seasoning is the process of coating cookware with layers of fat to create a natural non-stick surface.
Cast iron and wrought iron have an amazing ability to retain seasoning. This means that your iron pans will become more and more non-stick with every use. What's more, your food will begin to taste better as it takes on the flavours of the cooks that came before it.
But with great power comes great responsibility! You'll have to re-season your iron cookware with a high burning-temperature oil (such as rapeseed oil) from time to time.
You can find full instructions for cleaning and seasoning your iron cookware here.
All of your iron products – including the rEGGulator from time to time – require a light brushing of oil. After use, clean your pan with hot water and a soft sponge. Avoid detergents or scrubbers, as these are likely to take off the seasoning you've built up; the same seasoning that helps prevent food from sticking and gives your cooks amazing flavour.
Instead, brush down after use with a non-abrasive cloth, and then season with sunflower or rapeseed oil, which have a high burning temperature and won't leave a bitter taste.
You can find full cleaning and seasoning instructions here.
Solidteknics was founded in 2014 by mechanical engineer and keen cook Mark J Henry. Tired of the disposable, synthetic-coated pans piling up in our landfills, Mark envisioned a whole new era in cookware. One that was better for our health and our planet. The result is a seamless one-piece pan, wrought from a single sheet of metal. Free from toxins, heavy metals, synthetic coatings, and durable enough to last for centuries.
Manufactured in both Australia and the USA, Solidteknics' multi-generational cookware can now be found in thousands of professional kitchens and happy homes, all over the world.