OVERVIEW
Although the ingredients for a traditional Indian biriyani vary according to availability of meat and vegetables, goat is often featured. It's easy to understand why, as this underused cut of meat adds bags of flavour. You can of course swap goat for lamb but we'd urge you to give goat a go!
MARINATE THE GOAT
Mix the yoghurt with the garam masala, garlic, half a teaspoon of salt and the goat meat then leave to marinate. Overnight is best.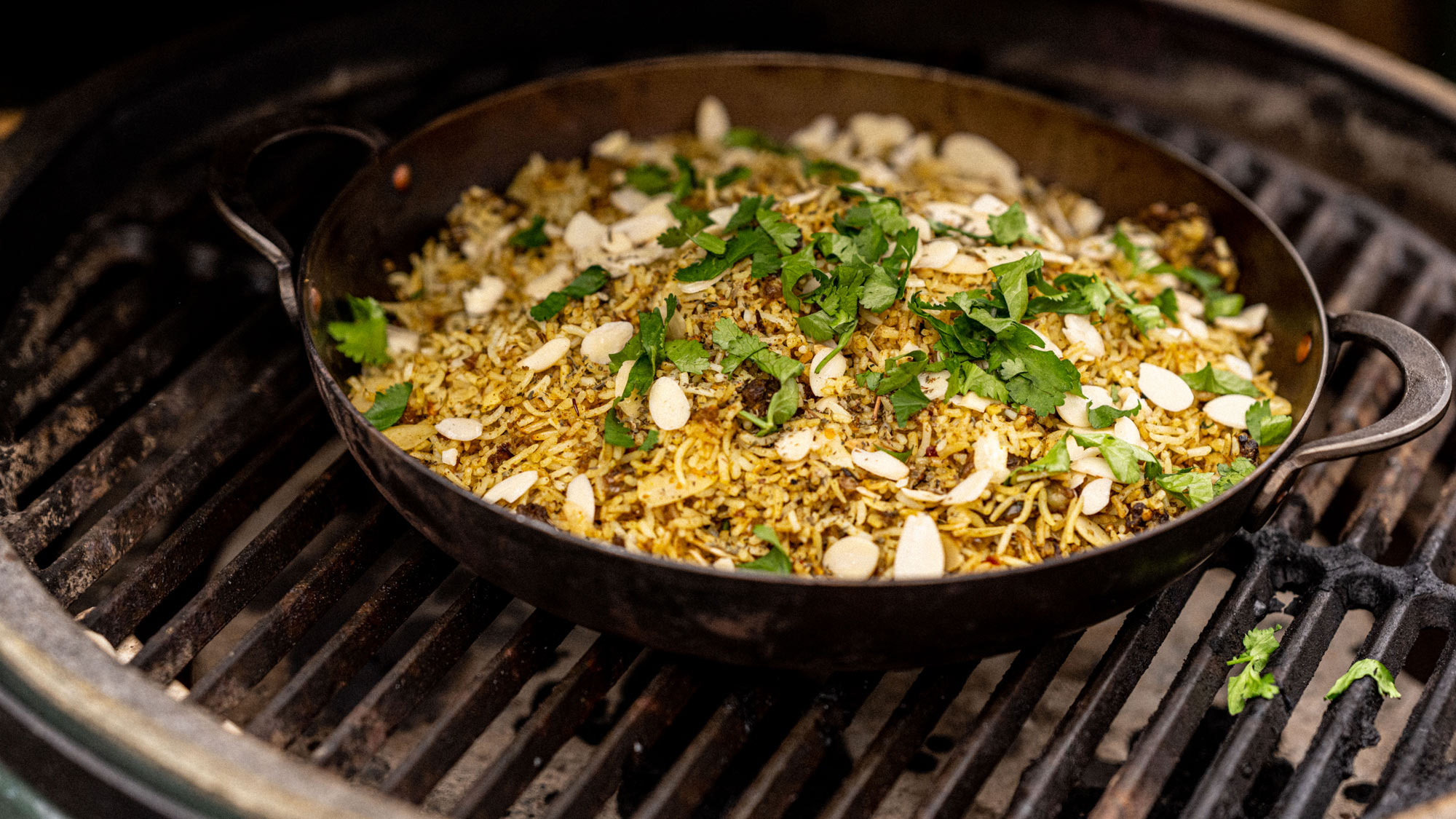 PREPARE THE BASE
Take the meat out of the fridge before lighting the EGG.
Preheat the EGG to 180°C, ConvEGGtor in, Stainless Steal Grid on top.
Once hot, add a Dutch Oven or Cast Iron Skillet in the EGG and heat for 10 minutes. Add the ghee or oil to the pan and allow to melt for 2 minutes.
Fry the onions for about 15 minutes with the lid down, stirring every 2-3 minutes until soft and starting to brown, then remove 2 tablespoons worth of onions and put to one side.
Add the meat to the pan and stir well, then close the lid and cook for 15 minutes, stirring once half way through.
COOK THE RICE
While the goat is cooking, fry the cinnamon, cloves, bay leaves and cardamom in half the butter for 1 minute on a moderate heat on your kitchen hob (alternatively, wait till the goat is ready, set aside and complete this process on the EGG). Add the saffron and the rice and toast in the butter and spices for 1 minute more.
Add 450ml hot water and a generous pinch of salt to the rice, bring to the boil and cook uncovered for 5 minutes until all the water has been absorbed. Remove from the heat and stir in the milk. Put to one side until the goat is ready.
COMBINE THE PANS
Scatter the raisins over the meat, then pour the par-cooked spiced rice over the top. Dot with the rest of the butter and the reserved cooked onions, cover the pan tightly with a lid or foil and cook in the EGG for 1 hour.
Remove from the EGG and allow to rest for 5 minutes without remove the lid. Serve with the almonds sprinkled on the top and the remaining lemon, cut into wedges.