How to change a Quadra-link band
Perfect alignment
Your EGG's Quadra-link band ensures that the dome sits squarely on the base, which is essential for locking in heat. It's spring-loaded, making the dome effortless to lift and gentle to shut.
If the band becomes damaged, you'll need to replace it. Here's how.
Equipment you will need.
To undo the main carriage bolts at the back, you'll need:
⅜" ratchet and extension bar
½" (13mm) deep socket
OR
½" (13mm) spanner
To undo any nuts on brackets, hinges and handle you'll need:
7/16" (11mm) deep socket
OR
7/16" (11mm) spanner
If removing from a Nest, you'll also need:
10mm spanner and crosshead screwdriver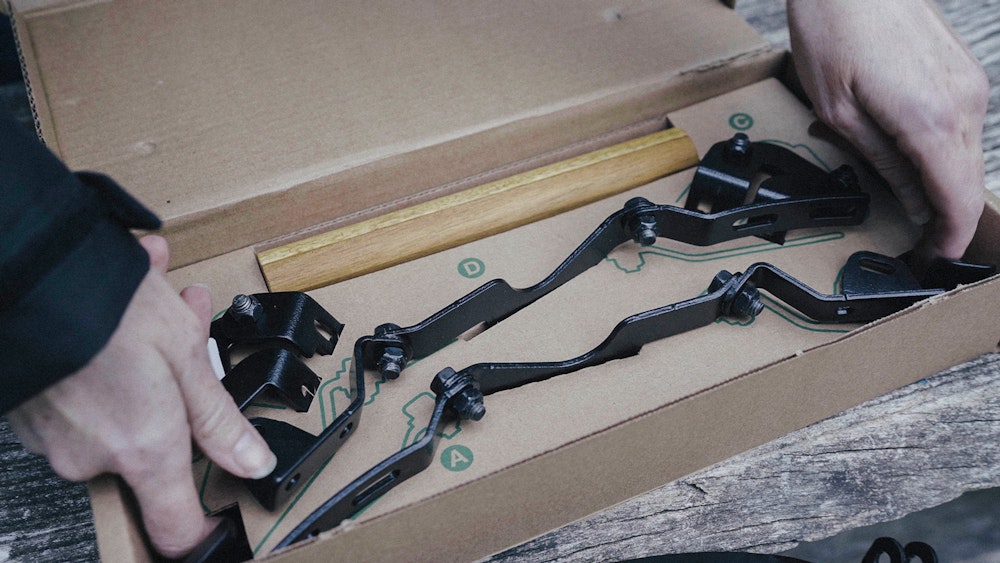 Remove the dome
Open the dome, remove the springs from either side, then close the dome again. Remove all the brackets and hinges, including the two carriage bolts at the back. Remove the dome and place somewhere safe.
Build the band
You'll need to build your new band before you attempt to place it on the EGG.
Swap old for new
Remove the old band and place the new band over the base, ensuring the holes on the front of the band and EGG are aligned. Place your dome back on the base, again making sure the holes are aligned.
Realignment is key
Now comes the most important part. If you have spacers, place these in 4 areas to align the bands. If not….
Loosely re-attach the two carriage bolt nuts at the back so the bands don't fall but you can still slightly move them.
Ensure the bands are completely level around the bottom band, making sure you have at least 3-4mm of green showing above the band. Tighten the bottom band at the back, ensuring the carriage bolt is bent.
Do the same for the top, only this time making sure you can see the green at the bottom of the band. Tighten, again making sure the carriage bolt is bent.
Now tighten the hinges at the back on both sides.
Look around the EGG and make sure everything is level (you can manoeuvre the lid to align it properly). Once aligned, tighten both brackets.
Open the dome and place the springs back on. Close the dome again and check all round for gaps.
If there are no gaps, you are done!
If there are gaps, slightly undo the top carriage bolt at the back (leaving the lid closed). Smack your dome down with the palm of your hand until the gap disappears then tighten the carriage bolt and check again.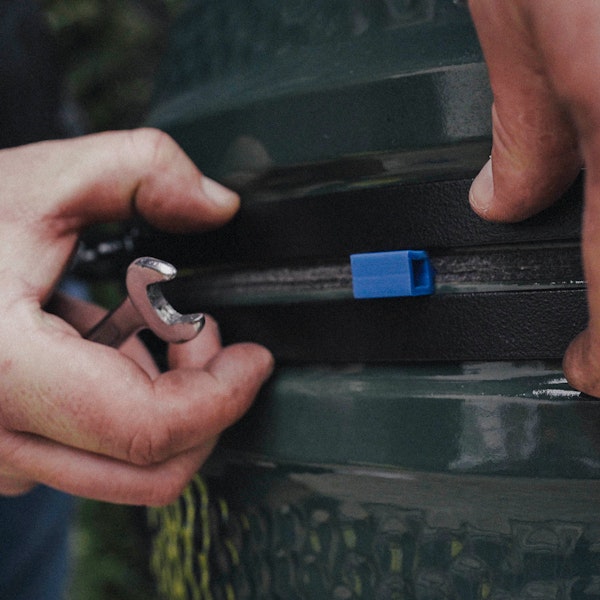 Big Green Egg Servicing
If replacing parts on your EGG feels a little daunting, hand over to the experts. To book a service, e-mail us at info@biggreenegg.co.uk (with 'Servicing' in the subject line), including your address and a photo or two of your EGG.