How To Set Up for Low & Slow
WHEN SHOULD I SLOW COOK?
Fun fact: cows don't have collar bones like us, which means that their brisket — or pectoral — muscle supports around 60% of their total body weight. Strong muscles mean more connective tissue which, when cooked, needs to be broken down. This goes for any hardworking muscle. Pork shoulder, lamb shank, you name it.
Cue the Low & Slow cook, which requires a lot of patience but very little effort on the Big Green Egg. That said, there are a few things to consider to ensure that both meat and mind are as relaxed as possible.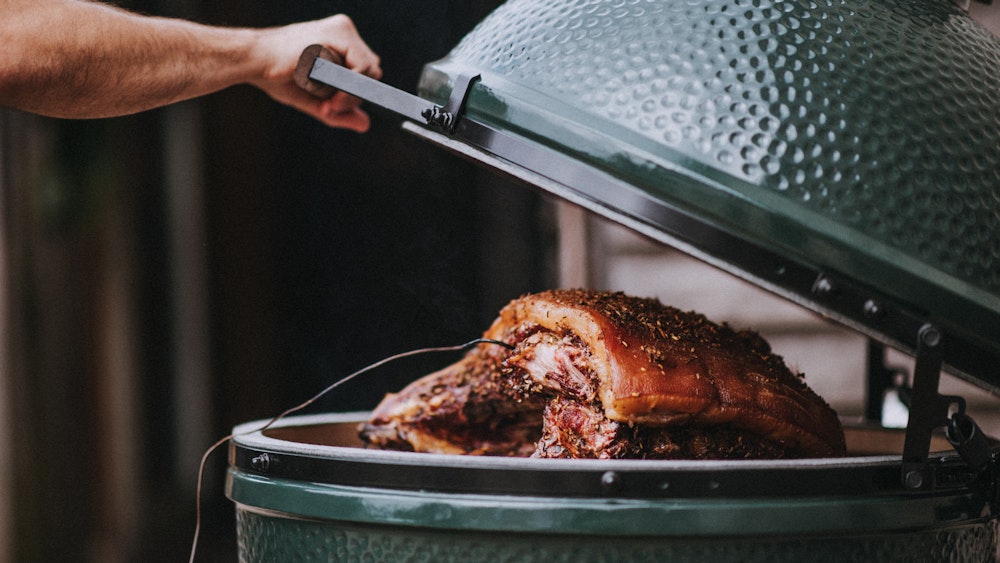 Light & Load
Low & Slow. The clue to this mode's success is in the name: maintaining a low, steady temperature for a long, slow cook. This can be easier said than done, as certain factors can cause the heat to fluctuate. Before you even think about cooking, make sure your airways are clear. Give any leftover charcoal a good rake and dispose of the ash. Then fill with fresh charcoal up to 5cm below the top of the Fire Ring as you would any other cook.
Setting up
Light and load your EGG. Once the ceramics have warmed up and the fire is established (around 10 minutes), close your dome. Once the thermometer is reading 10˚C below your target temperature, add in your ConvEGGtor and Stainless Steel Grid. Close the dome and let the EGG self regulate its temperature. When you get to 10˚C below your target temperature again, adjust your vents in tandem until your target temperature is sustained. When you get to 10˚C below your target temperature again, adjust your vents in tandem until your target temperature is sustained.
Patience is a virtue
Controlling the temperature can take a little practice. As the EGG has excellent heat retention, it's always easier to bring the temperature up than down, so the trick is to adjust the valves in small increments when you put your surfaces in. Once set, don't be tempted to move your coals around. This will cause the heat to rise unpredictably. Instead, put your food in and leave the EGG alone.
Cook to temperature, not time. And rest.
Because every cut is different (in size, weight and fat content for example) timing your cook is often leads to inconsistent results. Recipes should serve as a guide but it's only by checking internal temperatures with a thermometer that you'll be able to get it right every time. Check out our 'Cooking to temperature, not time' guide for more on this.
It's really important to rest your meat once it is cooked. Our Butcher's Paper will help. Unlike foil, it magically allows steam to escape but without affecting internal cooking temperatures, causing your meat to dry out or making your crust go soggy.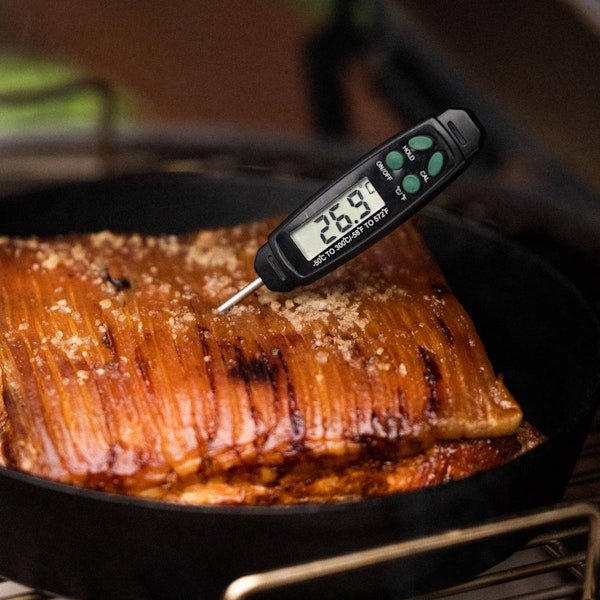 Hand over control
We know what it's like. You wander past your EGG, catch a whiff of your slow-cooked meat and can't resist peeking at it. The problem is that every time you open the lid, you cause temperature changes.
It's hard to resist the temptation when you can't see what's happening under the lid. Your constant checks might also be due to a niggling worry that hours of effort won't pay off. The best way to combat the urge is to relinquish the responsibility.
The EGG Genius takes out all the guesswork by telling you exactly what's happening inside your EGG. This is next-level barbecuing. Simply add your meat probe, and let the app do the rest. You'll know when the cook's done because the app will notify you. So you can spend your time worrying about what wine goes best with your slow-cooked lamb instead.