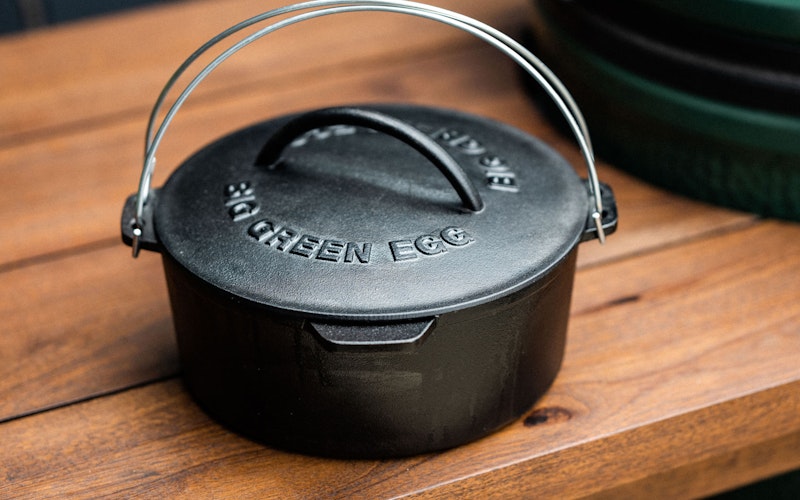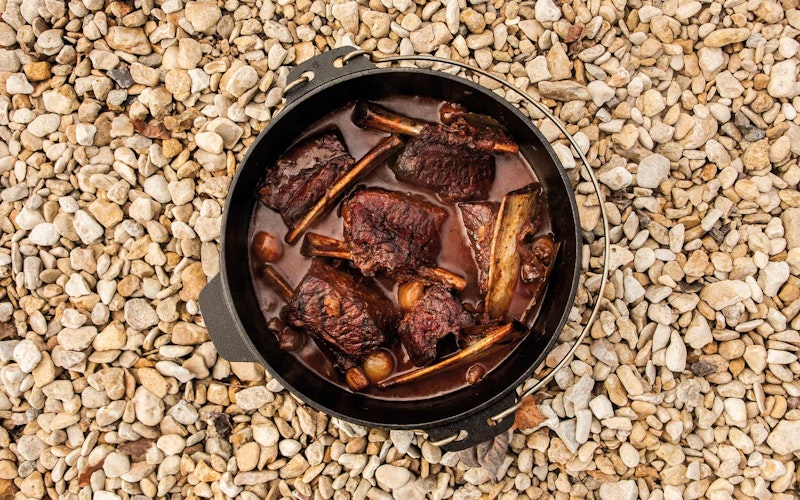 Cast Iron Dutch Oven
£ 75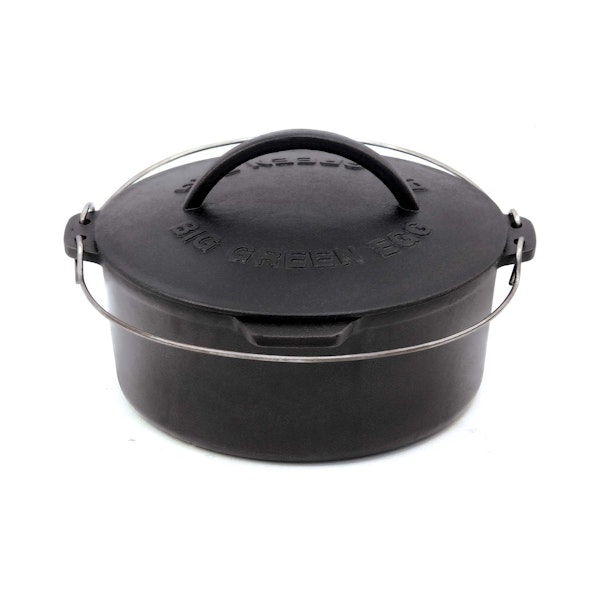 Cast Iron Dutch Oven
This professional-grade Cast Iron Dutch Oven offers efficient heat distribution for versatile cooking, and excellent durability against day-to-day wear and tear. Perfect for curries, chillies and stews.
This pan requires maintenance and seasoning after regular use, click here for more information.
Not suitable for the MiniMax Big Green Egg.
Code: AC6215
Enormous Capacity
Our Cast Iron Dutch Oven can hold a whopping 5.2L, meaning your next stew, soup, or slow cook can be bigger as well as better.
High-Quality & Heavy-Duty
For a professional-grade cook, you'll need professional-grade heat distribution — which is exactly what you'll get with our famous cast iron.
Gets Better with Age
As time goes on, you'll season your Cast Iron Dutch Oven — so that cooks develop a natural and effortless depth of flavour.
The benefits of cast iron are gamechanging
Better heat retention means incredible crusts, chars and barks, whether you're cooking meat, fish or veg. What's more, every time you cook in your cast iron pan, you are making it better by seasoning it. Flavourful oils and fats work their way into the surface, enhancing your cooks. Look after your cast iron, and it'll reward you with a lifetime of great tasting food.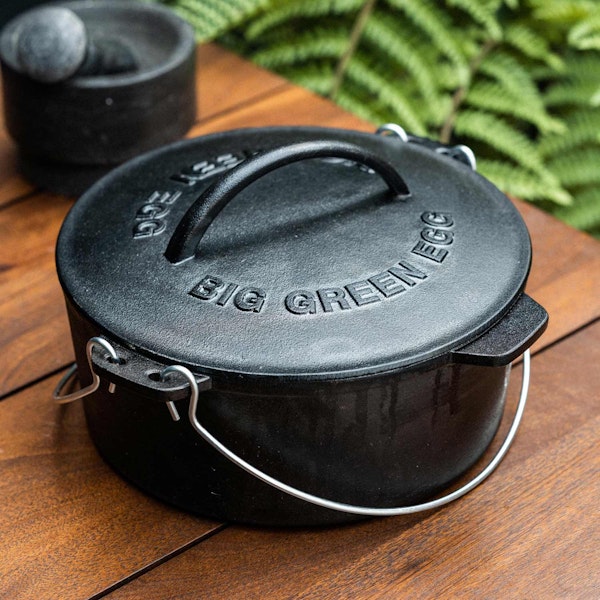 FAQs
You can make all sorts in a Cast Iron Dutch Oven. It works just as well as a sauté pan at high heats as it does as a slow cooker at low temperatures. This means you can do everything from browning meat to baking bread to making stews and casseroles. One of our favourites things to make in it is a classic chilli con carne. We say 'classic' but thanks to the Big Green Egg it's anything but, as the meat takes on a hint of charcoal smoke wich deepens and enriches the flavour. For a step-by-step guide to this recipe (plus many more), explore our Recipes area.
Firstly, never dishwash or submerge your cast iron in water. To clean on the EGG, simply bring your EGG up to a high temperature and use one of our Scrubbers to remove any debris. Then wipe down with oil to re-season.
Seasoning is the process of coating cookware with layers of fat to create a natural non-stick surface.
Cast iron and wrought iron have an amazing ability to retain seasoning. This means that your iron pans will become more and more non-stick with every use. What's more, your food will begin to taste better as it takes on the flavours of the cooks that came before it.
But with great power comes great responsibility! You'll have to re-season your iron cookware with a high burning-temperature oil (such as rapeseed oil) from time to time.
You can find full instructions for cleaning and seasoning your iron cookware here.