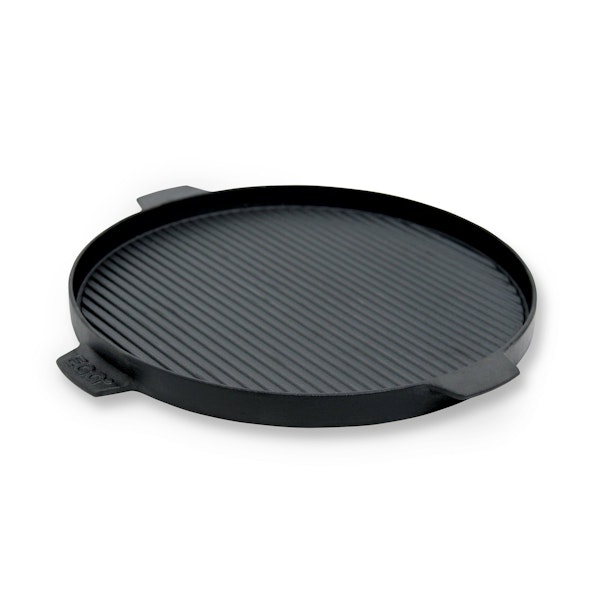 Dual-Sided Cast Iron Plancha Griddle
Our Plancha Griddle gives you maximum surface contact while you're searing. Thanks to our heavy-duty cast iron, you'll get a crispy, delicious crust no matter what you're cooking.
27cm This fits all EGG sizes except the Mini.
36cm This fits Large, XL, 2XL EGGs.
Code: AC6808
Versatile Searing
Make the most out of plancha cooking — with a flat side and a griddled side. The best ever full English on one cooking surface.
Superior Cast Iron
For superb heat retention and distribution, our cast iron ticks all the boxes. Sear a la plancha for delicious, even crusts and caramelised bark.
Easy to Plate Up
Our Cast Iron Plancha Griddle is handled, so it's easy to move from your EGG and into the centre of the table for serving.
The benefits of cast iron are gamechanging
Better heat retention means incredible crusts, chars and barks, whether you're cooking meat, fish or veg. And because cast iron is seasoned, flavourful oils and fats work their way into the surface, enhancing your cooks with deep complexity. Look after your cast iron, and it'll last you a lifetime.
FAQs
Plancha cooking is just like searing. The only difference is that more of your food will be in contact with the cooking surface. That's ideal for cooking foods that benefit from an even crust. A full English breakfast is perfect on this plancha griddle, as you'll crisp up the bottoms of your fried eggs, and give your sausages and bacon a beautiful, even char.
Seasoning is the process of coating cookware with layers of fat to create a natural non-stick surface.
Cast iron and wrought iron have an amazing ability to retain seasoning. This means that your iron pans will become more and more non-stick with every use. What's more, your food will begin to taste better as it takes on the flavours of the cooks that came before it.
But with great power comes great responsibility! You'll have to re-season your iron cookware with a high burning-temperature oil (such as rapeseed oil) from time to time.
You can find full instructions for cleaning and seasoning your iron cookware here.
Firstly, never dishwash or submerge your cast iron in water. To clean on the EGG, simply bring your EGG up to a high temperature and use one of our Scrubbers to remove any debris. Then wipe down with oil to re-season.