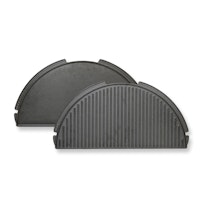 Half Moon Cast Iron Plancha Griddle
£ 65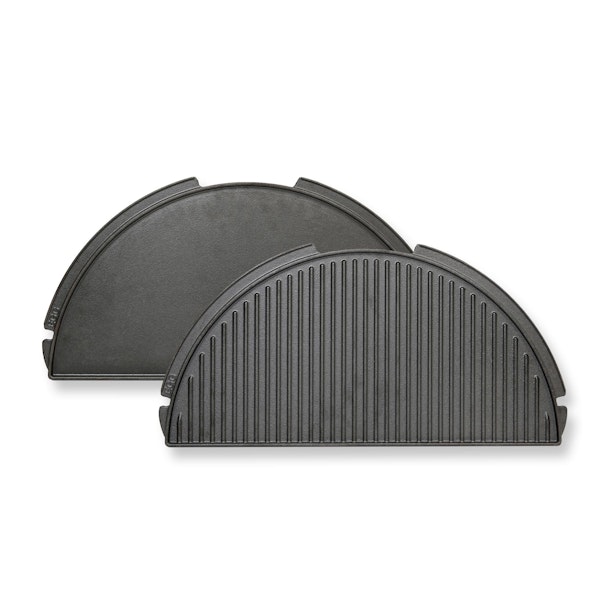 Half Moon Cast Iron Plancha Griddle
Our Plancha Griddle gives you maximum surface contact while you're searing. Coupled with our heavy-duty cast iron, you'll get a crispy, delicious crust no matter what you're cooking. Compatible with the EGGspander System and also fits on top of the stainless steel grid.
PLEASE NOTE: Half Moon Plancha Griddle for Large will be available for delivery from 9th July
Code: ACL647
Two sides
Make the most out of your plancha by using both the flat side and the griddle side, or buy two and use both simultaneously. The best ever breakfast — complete with pancakes and grilled bacon — is within easy reach.
Superior Cast Iron
For superb heat retention and distribution, our cast iron ticks all the boxes. Sear a la plancha for delicious, even crusts and caramelised bark.
Mix and Match with the EGGspander
Not only does our Cast Iron Plancha Griddle offer two cooking surfaces in one, the half moon size allows you to combine it with other surfaces in your EGGSpander system so you can be getting perfect grill marks on your flatbreads on one side, whilst melting your garlic butter on the other.
THE EGGSPANDER SYSTEM
The EGGspander is a genuine game changer. As well as massively increasing your cooking area, the different heights and surfaces offer enormous amounts of flexibility. You can be grilling your meat on one side, whilst roasting your potatoes on the other and leaving your gravy to bubble away above. If you're new to the EGG, it's THE indispensable accessory to go for. If you're not, you're going to wonder how you survived without it.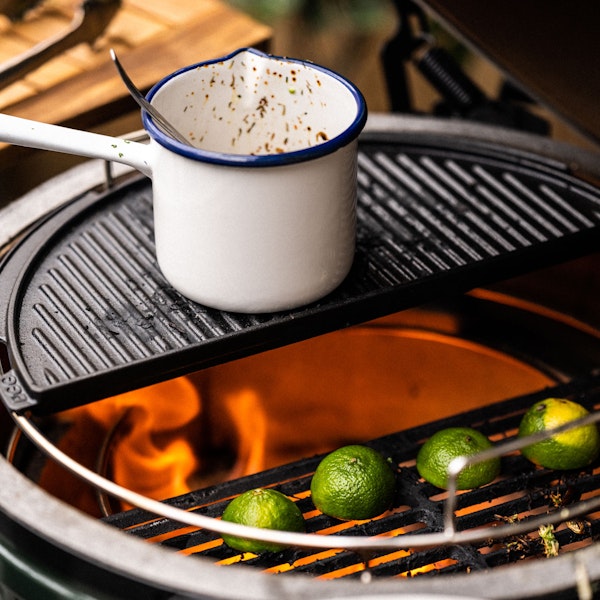 FAQs
Plancha cooking is just like searing. The only difference is that more of your food will be in contact with the cooking surface. That's ideal for cooking foods that benefit from an even crust. A full English breakfast is perfect on this plancha griddle, as you'll crisp up the bottoms of your fried eggs, and give your sausages and bacon a beautiful, even char.
Seasoning is the process of coating cookware with layers of fat to create a natural non-stick surface.
Cast iron and wrought iron have an amazing ability to retain seasoning. This means that your iron pans will become more and more non-stick with every use. What's more, your food will begin to taste better as it takes on the flavours of the cooks that came before it.
But with great power comes great responsibility! You'll have to re-season your iron cookware with a high burning-temperature oil (such as rapeseed oil) from time to time.
You can find full instructions for cleaning and seasoning your iron cookware here.
Firstly, never dishwash or submerge your cast iron in water. To clean on the EGG, simply bring your EGG up to a high temperature and use one of our Scrubbers to remove any debris. Then wipe down with oil to re-season.