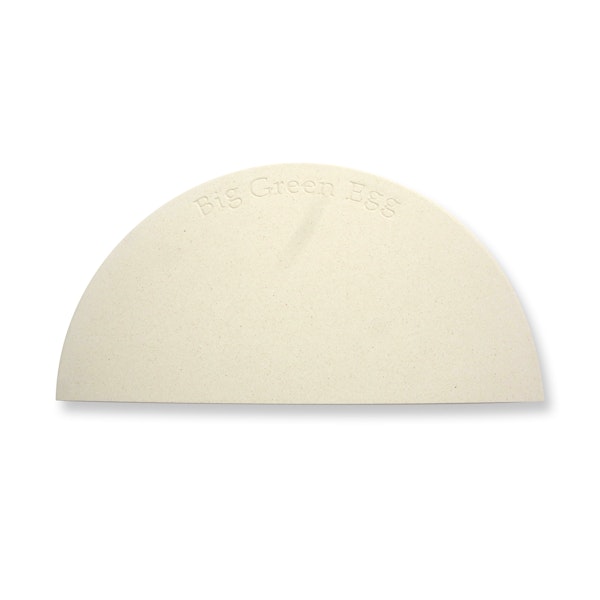 Half Moon Ceramic Baking Stone
Our Half Moon Baking Stone allows you to cook in-directly and directly at the same time. It can be mixed and matched with other cooking surfaces in your EGGpander system. This means that you could be making flatbreads, melting herbed butter and grilling steak simultaneously for the perfect sandwich. The surface conducts and retains heat efficiently, drawing out moisture from your ingredients and guaranteeing perfect crusts.
Code: ACM645
THE EGGSPANDER SYSTEM
The EGGspander is a genuine game changer. As well as massively increasing your cooking area, the different heights and surfaces offer enormous amounts of flexibility. You can be grilling your meat on one side, whilst roasting your potatoes on the other and leaving your gravy to bubble away above. If you're new to the EGG, it's THE indispensable accessory to go for. If you're not, you're going to wonder how you survived without it.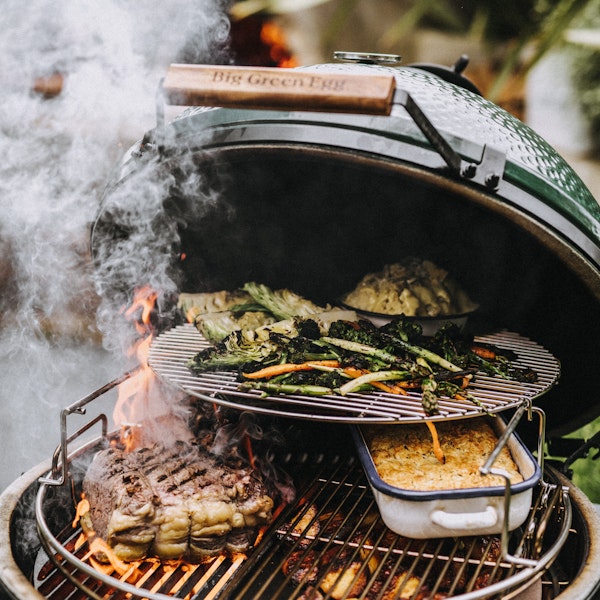 FAQs
It couldn't be easier. Once your Fire Box is filled with charcoal, insert the ConvEGGtor Basket. Then add in either a Half Moon Baking Stone (for indirect cooking), a Cast Iron Searing Grid (for direct cooking), or a combination of the two. By mixing and matching, you can cook with two types of heat at once.
What is direct cooking?
When you cook at a high temperature in direct contact with the cooking surface, that's searing. This cooking mode falls under the "direct heat" category, as whether you're using a searing grid, skillet, or plancha griddle, you'll be utilising the heat without anything blocking or deflecting it around the dome of the EGG.
What is indirect cooking?
When you're cooking directly, the flames cook your food. That's good for smaller items that take less time to cook or for things that can easily be flipped over. However, if you've got a large cut of meat with lots of connective tissue to break down, a loaf of bread that requires consistent, even heat all around, or something you're looking to roast or smoke at a very low temperature, direct cooking won't cut it for you.
By placing a ConvEGGtor into your firebox (or by using the EGGspander System), you block the direct heat and deflect it around the dome of your EGG. Thanks to the EGG's careful design and amazing ceramics, this heat bounces back to your food, cooking it indirectly.
To cook indirect on the Big Green Egg, you'll need a ConvEGGtor. This clever ceramic sheet slots into your EGG and deflects the direct heat from the coals, transforming your barbecue into a powerful convection oven.
Place your ConvEGGtor into the EGG once the ceramics have warmed up, and you're all set.
Some say that building our EGGs with NASA-grade ceramics is overkill. We think it's the thing that sets us apart. Better ceramic technology means better heat retention, which in turn produces a longer, more consistent cook. That's why with one batch of charcoal, a Large EGG can cook for up to 24 hours.