OVERVIEW
With its signature burnt top, a Basque-style cheesecake was crying out to be made on a Big Green Egg. We're thankful that the lovely team at Due South in Brighton – who specialise in cooking over fire – have not only shared their recipe but provided us with four accompaniments (one for each season) so we can continue to indulge in this rich dessert all-year long.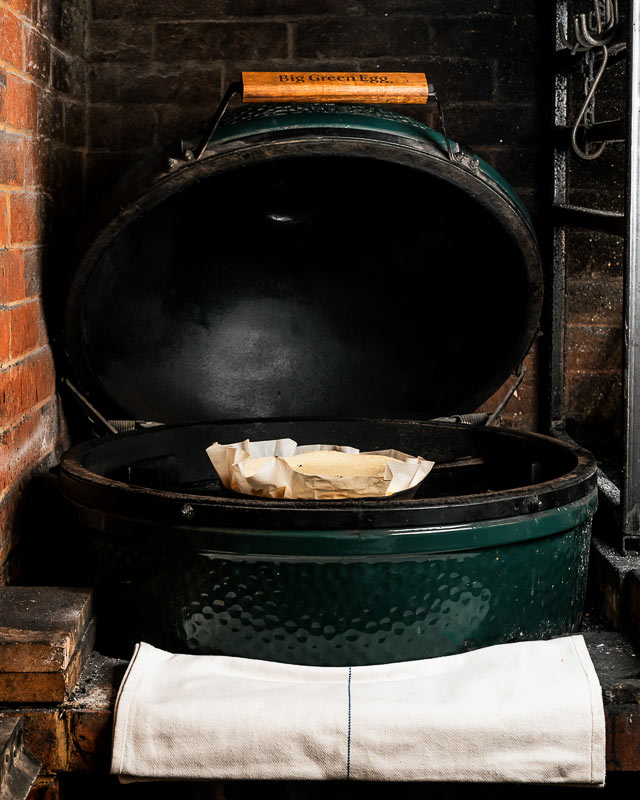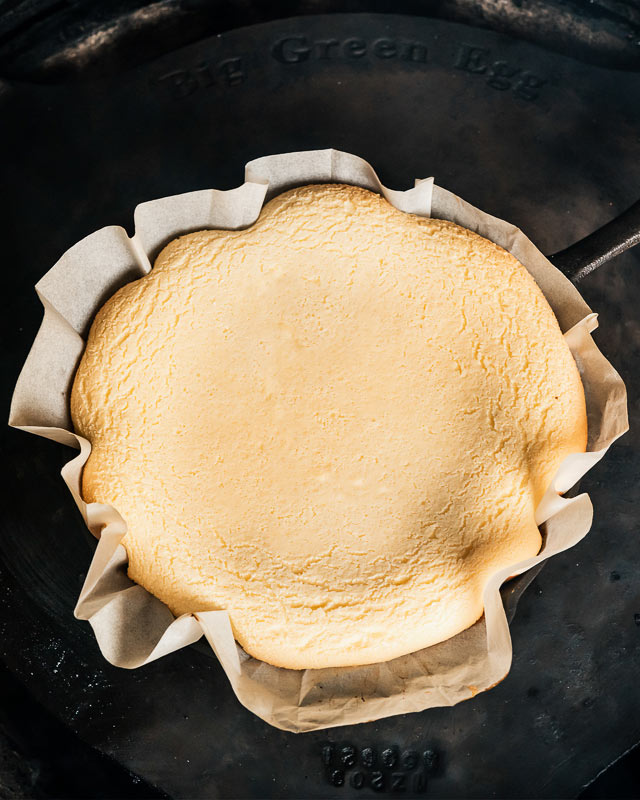 METHOD
Load and light your EGG and set up for indirect cooking, with the ConvEGGtor in legs-up position and Stainless Steel Grid on top. Your target temperature is 220˚C.
Meanwhile, line the bottom and sides of a loose-bottomed cake tin with parchment paper. You want to leave a good few centimetres of parchment paper overhanging the rim of the tin, so that you can lift the cheesecake out once it's cooled. This is even more important if you don't have a springform tin and are using one of our Skillets instead.
Place all the ingredients in a blender and mix until smooth. Pour the mixture into the cake tin. Place in the EGG and cook for 25-30 minutes until the mixture is set with a slight wobble to it.
Set aside to cool while you make your chosen accompaniment. As tempting as it might be, don't rush this part. If you cut into the cheesecake prematurely, you may find that you end up with a puddle. You need to give it sufficient time to cool and set.
Once completely cooled, carefully release it from the tin.
For the calvados poached pear (winter)
Bring the sugar, water and calvados to the boil. Peel the pears and add to the pan. Poach until soft (approximately 10-14 minutes).
For the poached rhubarb (spring)
Bring the sugar, water and spices to the boil in a pan. Cut the rhubarb into 10cm batons and place in the boiling liquor. Remove from the heat and allow to cool completely.
For the poached raspberries and strawberries (summer)
Place the water and sugar in a saucepan and bring to the boil. Add the vanilla pod, remove from the heat and allow to cool slightly. Put the raspberries and strawberries in a bowl and pour the vanilla syrup over the top. Allow to cool completely.
For the caramelised figs (autumn)
Slice the figs in half lengthways, dust with icing sugar or caster sugar, and caramelise in a frying pan on the stove or over direct heat in the EGG.