OVERVIEW
Ask the a butcher to score the skin and fat of the gammon and tie it for you, or score and tie it yourself.
There are two ways of cooking this recipe: the traditional method that involves pre-boiling the gammon on your kitchen hob before roasting it, and the Big Green Egg way, which adds an extra layer of smoky flavour. The full recipe is for the latter approach, but if you prefer to go the traditional route, just place the gammon in a pan and cover with cold water, then throw in some cloves, black peppercorns and bay leaves. Bring the water to the boil, reduce the heat, cover and simmer for 50 minutes. This means you can skip straight to the glazing and roasting section of the method below.
CREATE A CHRISTMASSY BED
Load and light your EGG. Place your ConvEGGtor with the legs facing up and the Stainless Steel Grid on top. Your target temperature is 160°C.
Slice four of the clementines in half, one into quarters and one into discs. Burp your EGG and make a bed of these clementine pieces in the centre of the Stainless Steel Grid.
Place the gammon on the bed of clementines, then dot the bed with cinnamon and star anise. This Christmassy pillow is designed to protect the gammmon, the caramelised fruit and spices will drip their juice onto the convEGGtor, flavouring the smoke that then infuses into the meat. Cook in this manner until your joint has reached an internal temperature of 55°C.
GLAZE AND ROAST YOUR GAMMON
Cut the pouch containing the glaze, and pour it into a Cast Iron Saucepot. Give the pouch a rinse with a little water and pour this into the pot too. Warm through on the EGG.
Using a Basting Brush, paint the glaze all over the joint. Once the first layer has set, paint the next one on.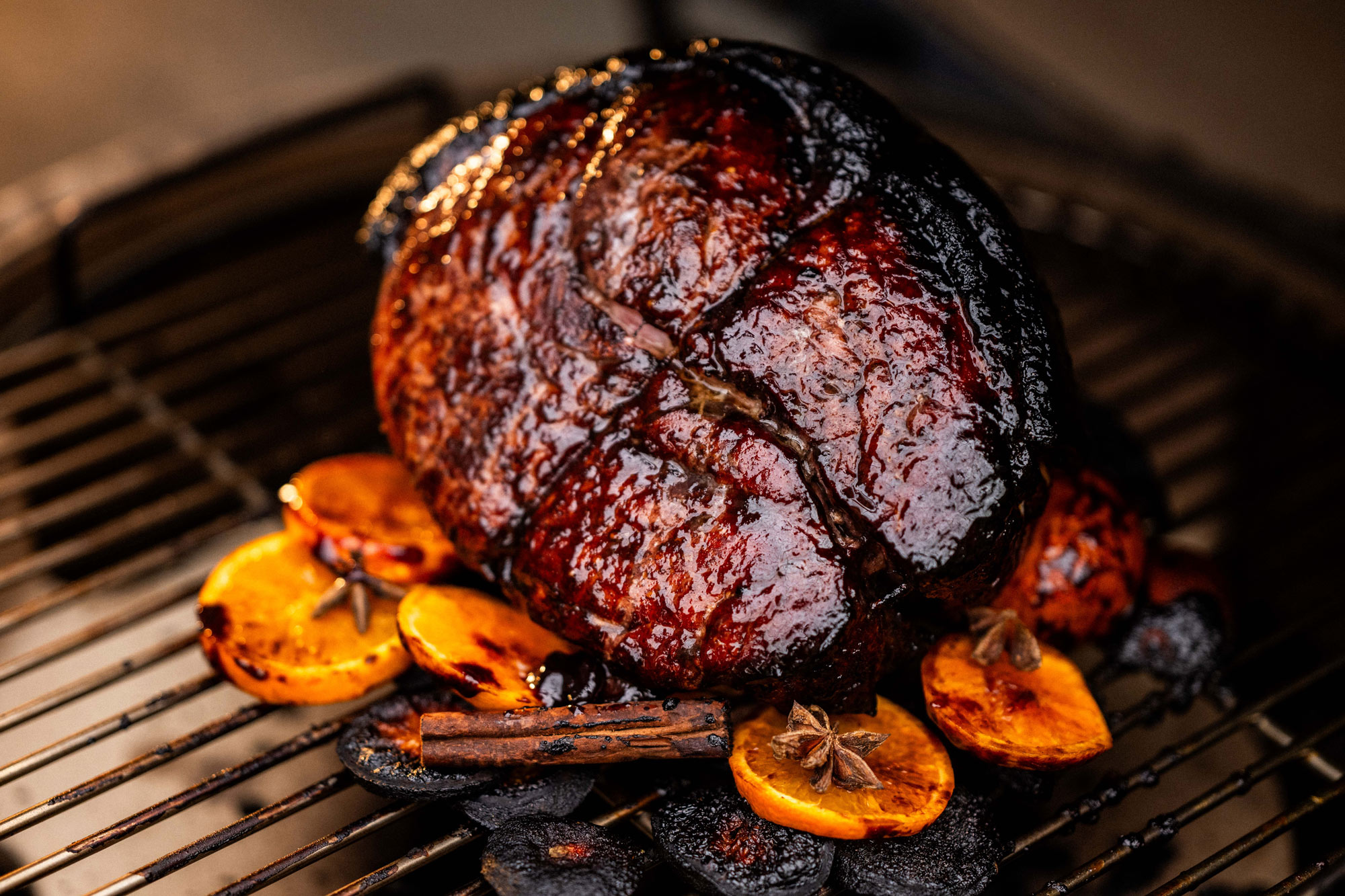 Increase the EGG temperature to 200°C.
Close your EGG and leave the glazed gammon to roast. Once the meat has reached an internal temperature of around 68°C. Remove from the EGG and let it rest, reaching 71°C.
Gammon is best served either warm or cold. Do not carve while still hot, as you will not be able to achieve nice thick slices.