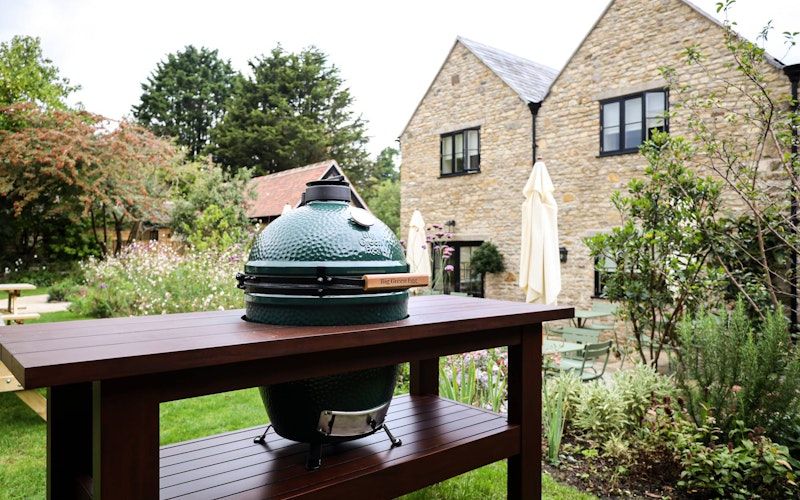 An Interactive story with Margot Henderson & The Three Horseshoes
Join us on a journey to the west. Through our new interactive story, featuring videos, recipes, products and a stunning competition prize, we're giving you the chance to explore the unique food and drink of Somerset.
Our guide is chef Margot Henderson, who spent most of her life as a towering figure on London's food scene before falling in love with Somerset. At The Three Horseshoes, her pub in the village of Batcombe, Margot takes the seasonal bounty of the county's patchwork of small producers and turns it into simple but stunningly tasty dishes – using Big Green Eggs to do so.
Watch the interactive story below
If watching on a smart phone turn your phone to landscape.
Sustainable choices
Margot talked to us about her approach to cooking, the importance of sustainable farming, and her love of the EGG. She also conjured up a couple of typically appealing recipes for you.
Somerset's terroir
We paid a visit to the makers of her favourite cheese, Westcombe Cheddar, and heard from Tom Calver about creating a product that truly reflects the area's unique terroir. We then made our way to the famous Burrow Hill farm to learn from Matilda Temperley about the art of making Somerset cider and cider brandy.
Margot's interactive story
If all that whets your appetite for some Somerset hospitality, we're giving you the chance to visit the county in spectacular style. Through the interactive story, you can enter a free draw to win dinner and a night's stay at The Three Horseshoes – the very best of the west.