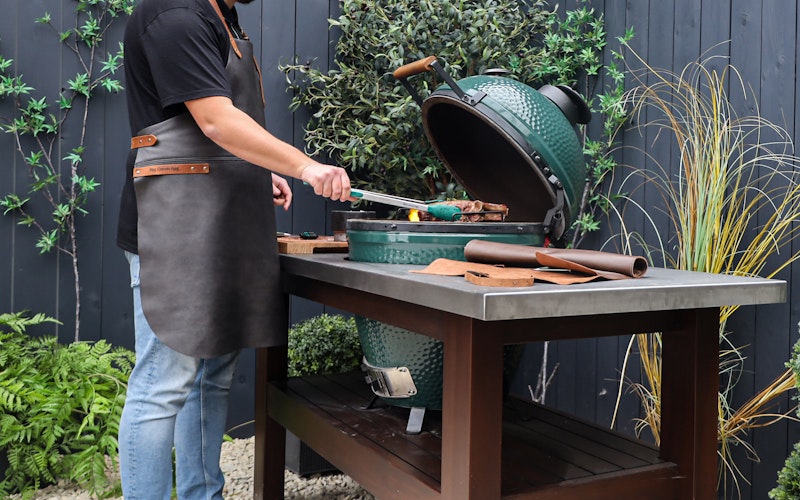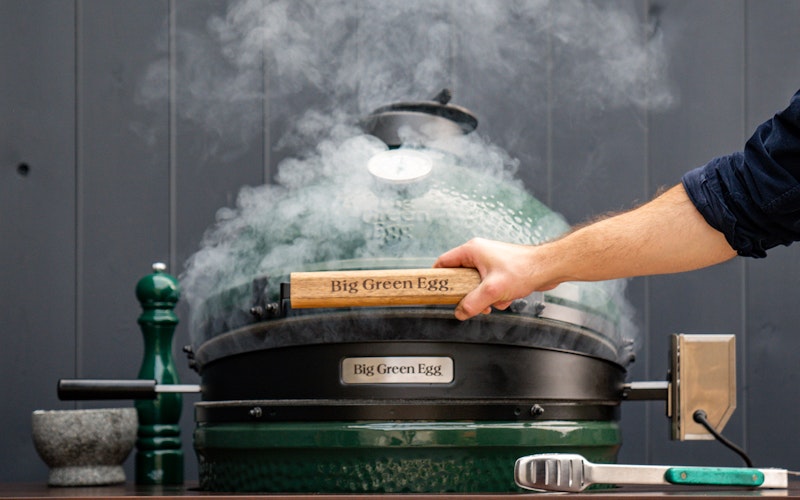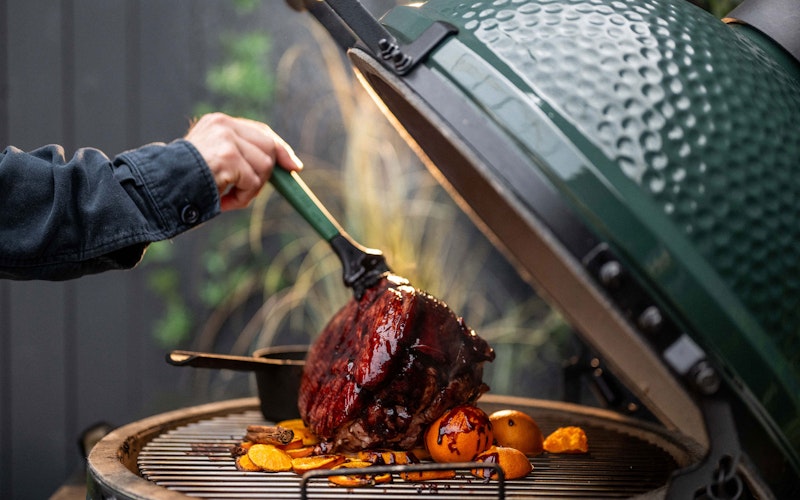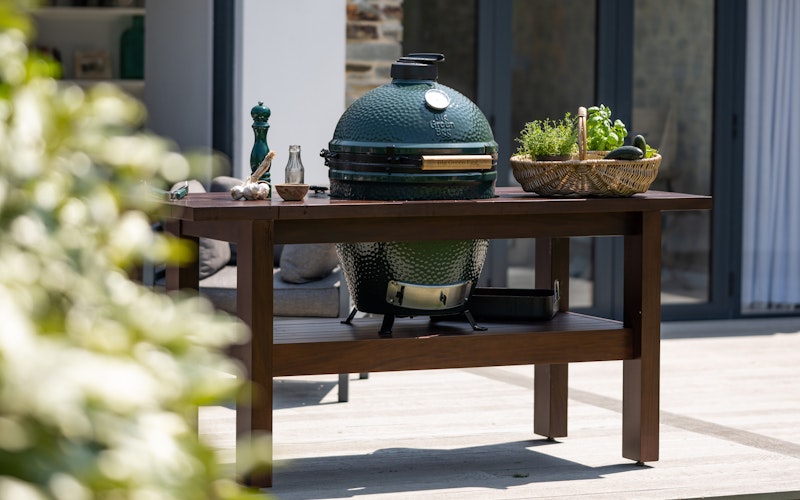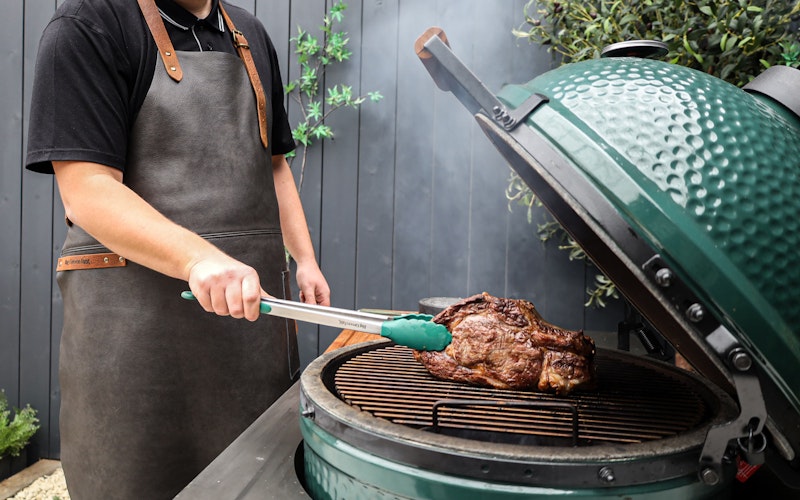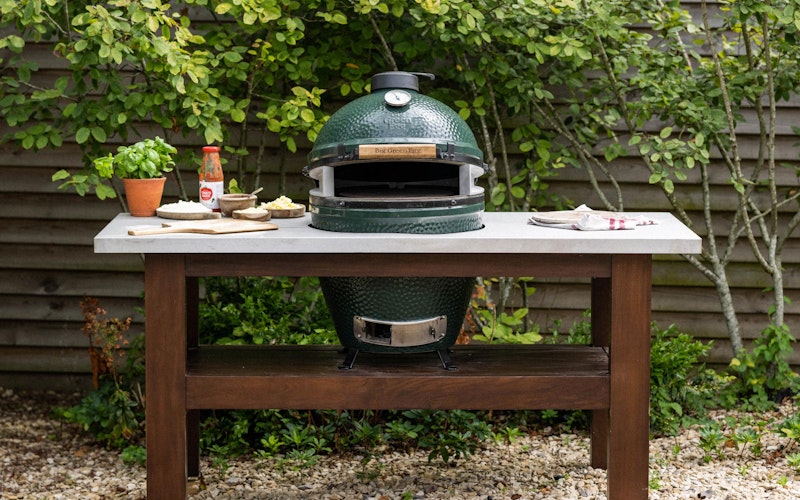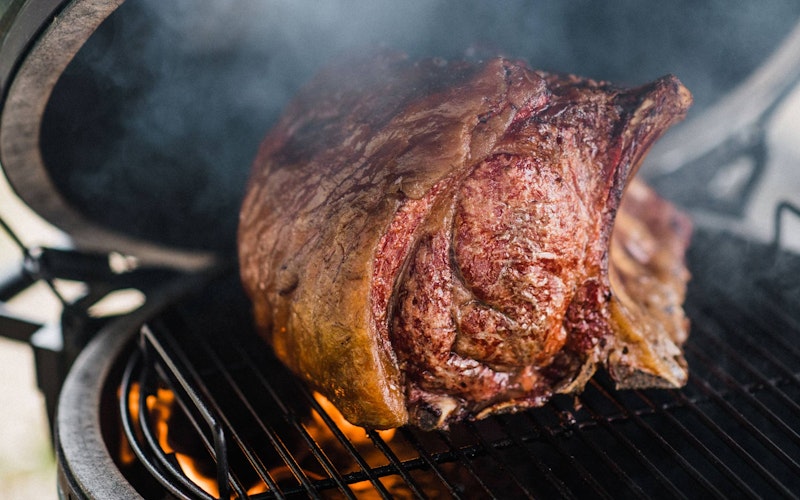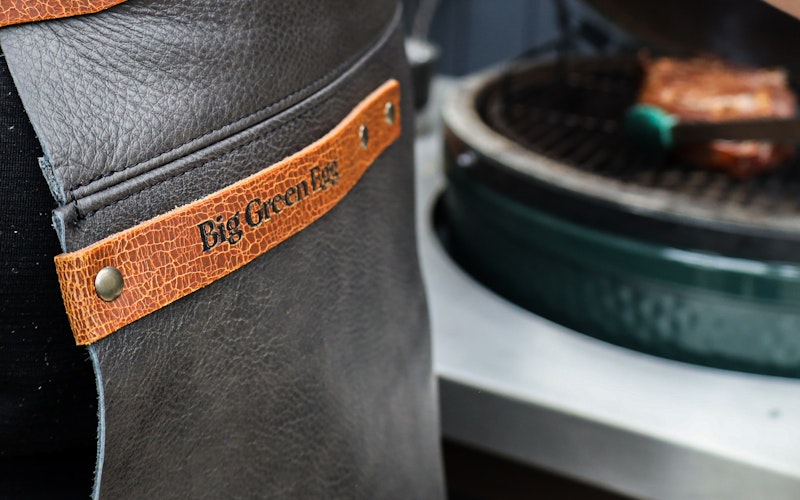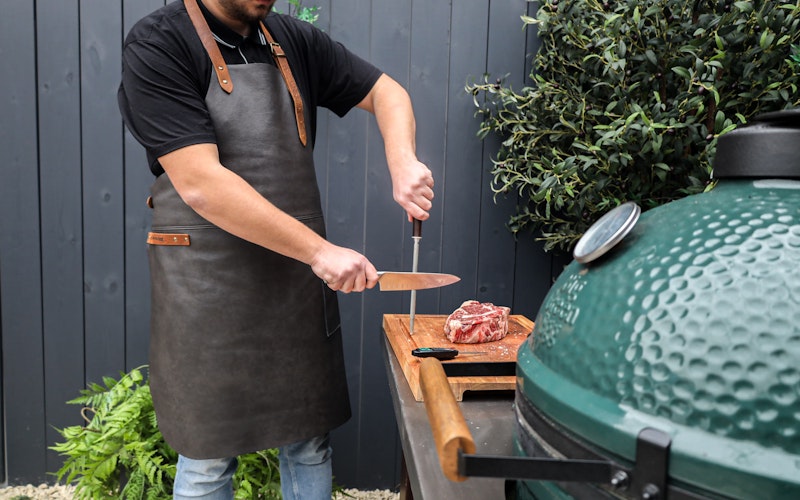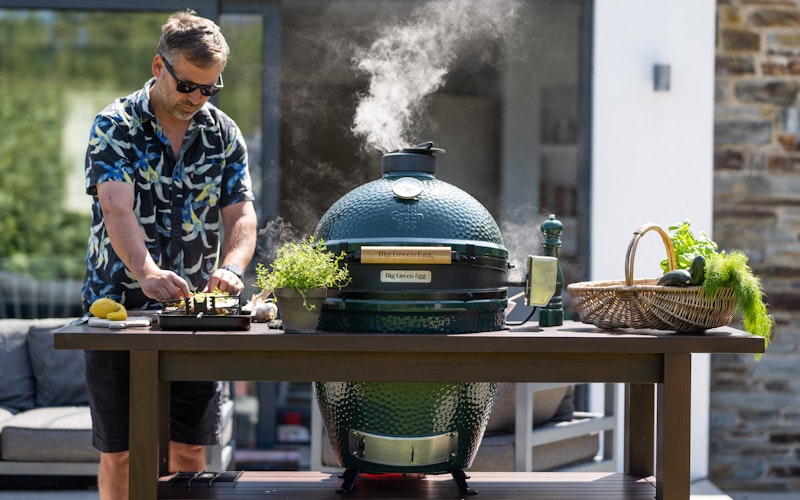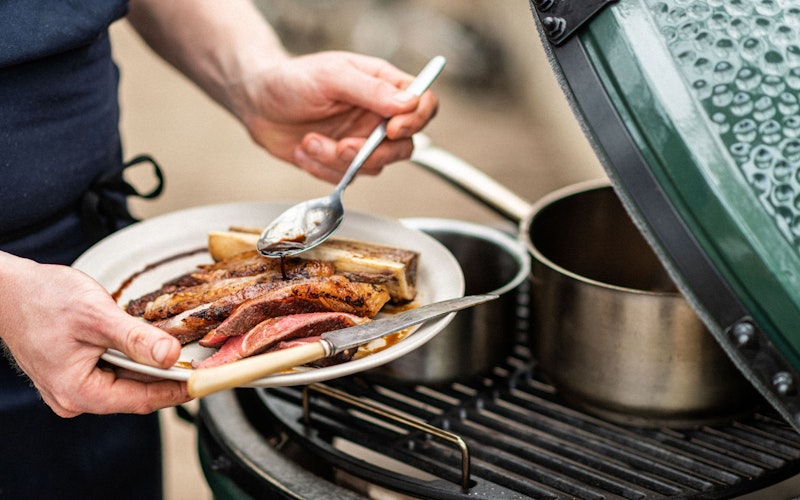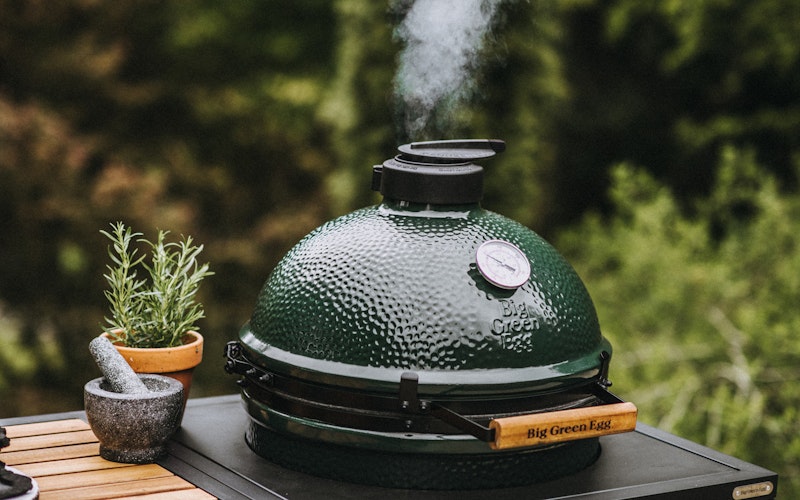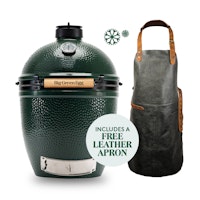 Large Big Green Egg
£ 1,375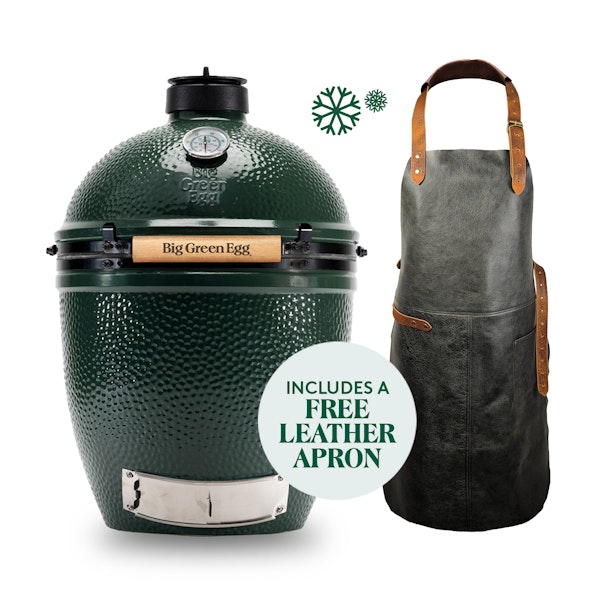 Large Big Green Egg
So much more than just a barbecue, our classic EGG will transform the way you cook at home. We have many imitators, but none can compete with our iconic design and patented technology, which allow you to produce restaurant-quality food in your back garden.
Order a new EGG between 9am on 1st December and 9am on 2nd January and we'll gift you a FREE Big Green Egg Classic Leather Apron worth £175-£195. Handmade in a Dutch atelier, this comfortable, stylish apron is designed for the rigours of cooking over fire. The offer is only available while stocks of this limited edition apron last, so order early to avoid missing out. Size S-XL shipped by default, but XL-2XL also available – see tab below for sizing and delivery details.
EGG comes with ConvEGGtor and Stainless Steel Grid.
Code: ACL111
In the box
Large Big Green Egg
ConvEGGtor
Firebox
New and improved Fire Ring
Fire Grate
Stainless Steel Cooking Grid
rEGGulator
Tel-Tru Thermometer Dome Gauge
Standard Shipping included
Big Green Egg Leather Apron (size S-XL)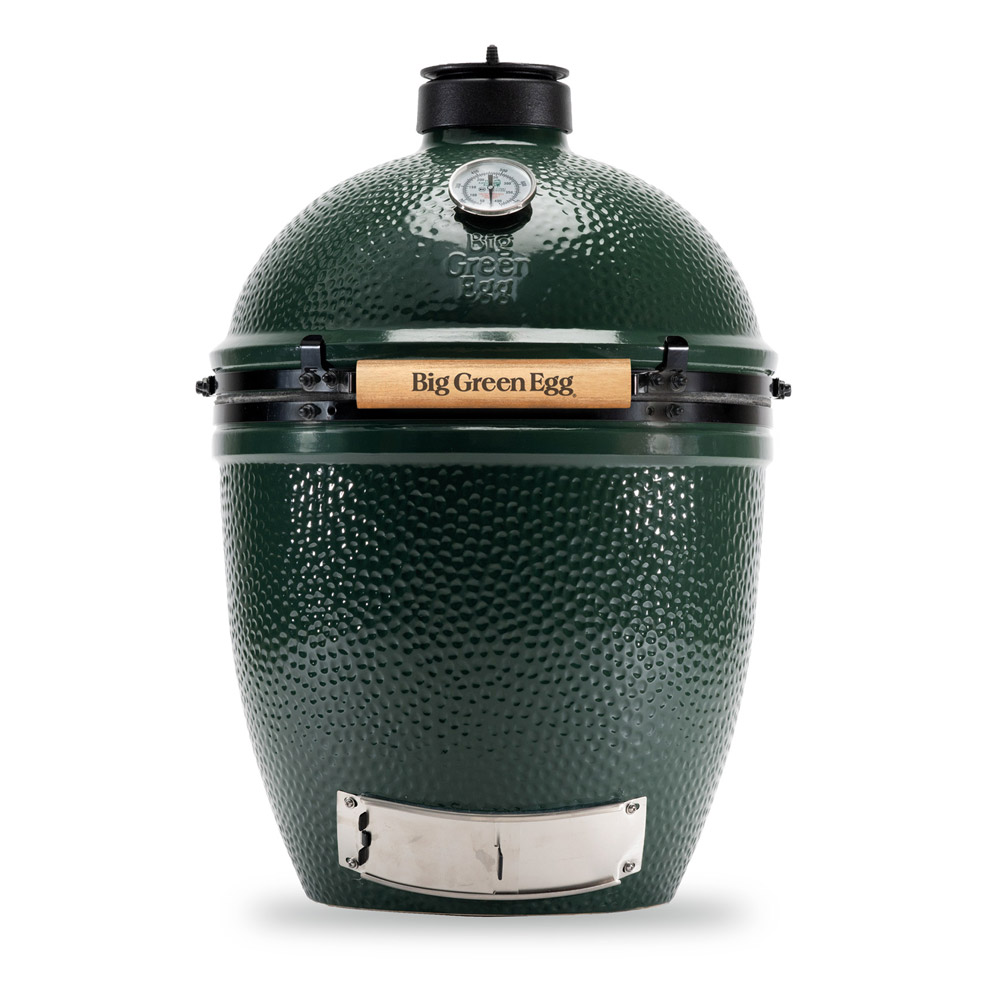 Large Big Green Egg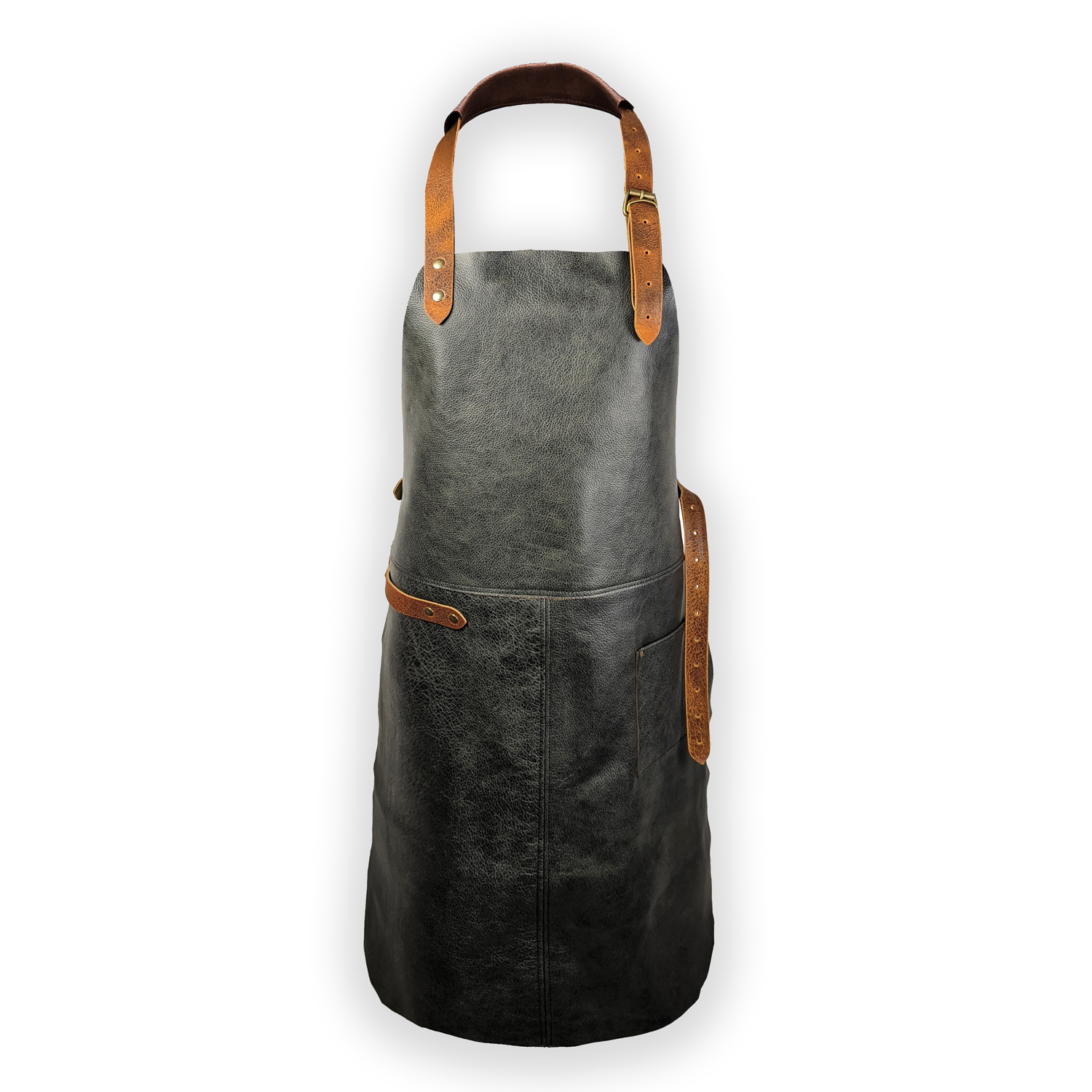 Big Green Egg Leather Apron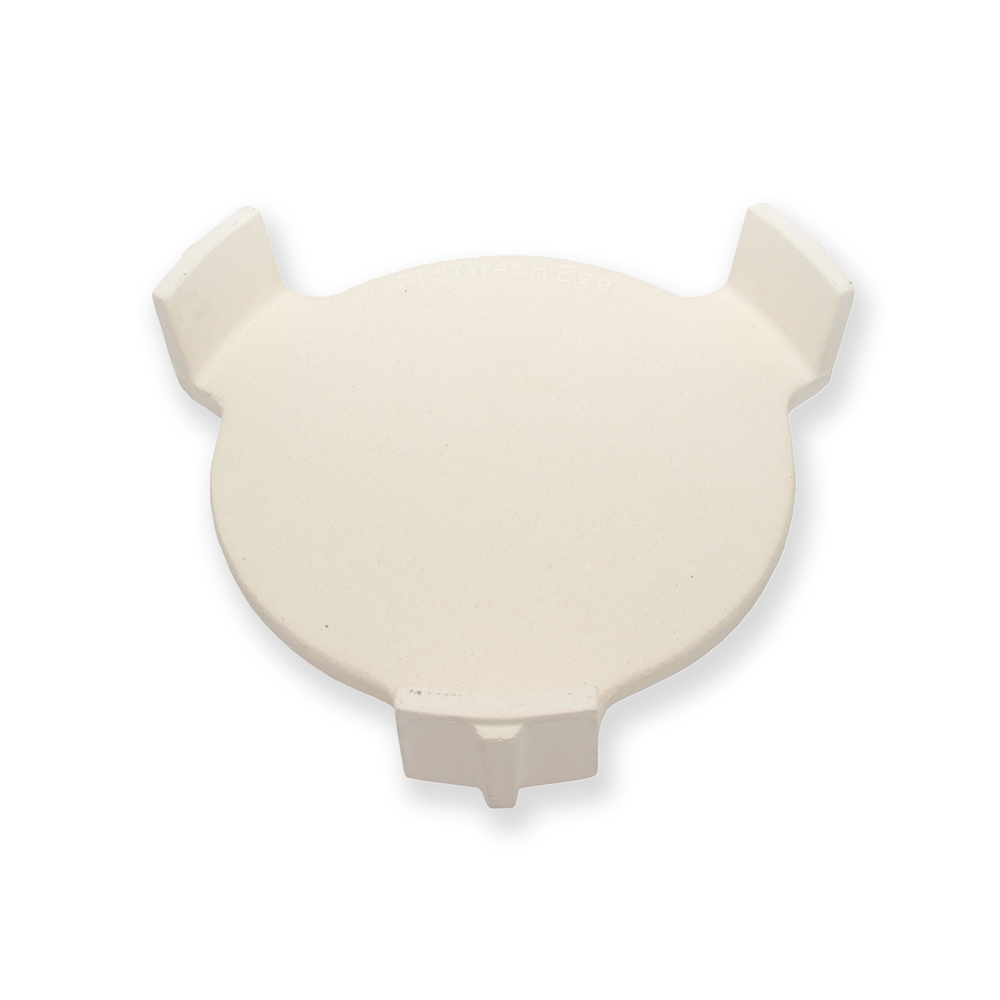 ConvEGGtor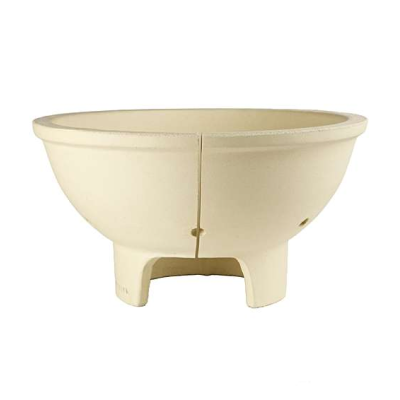 Firebox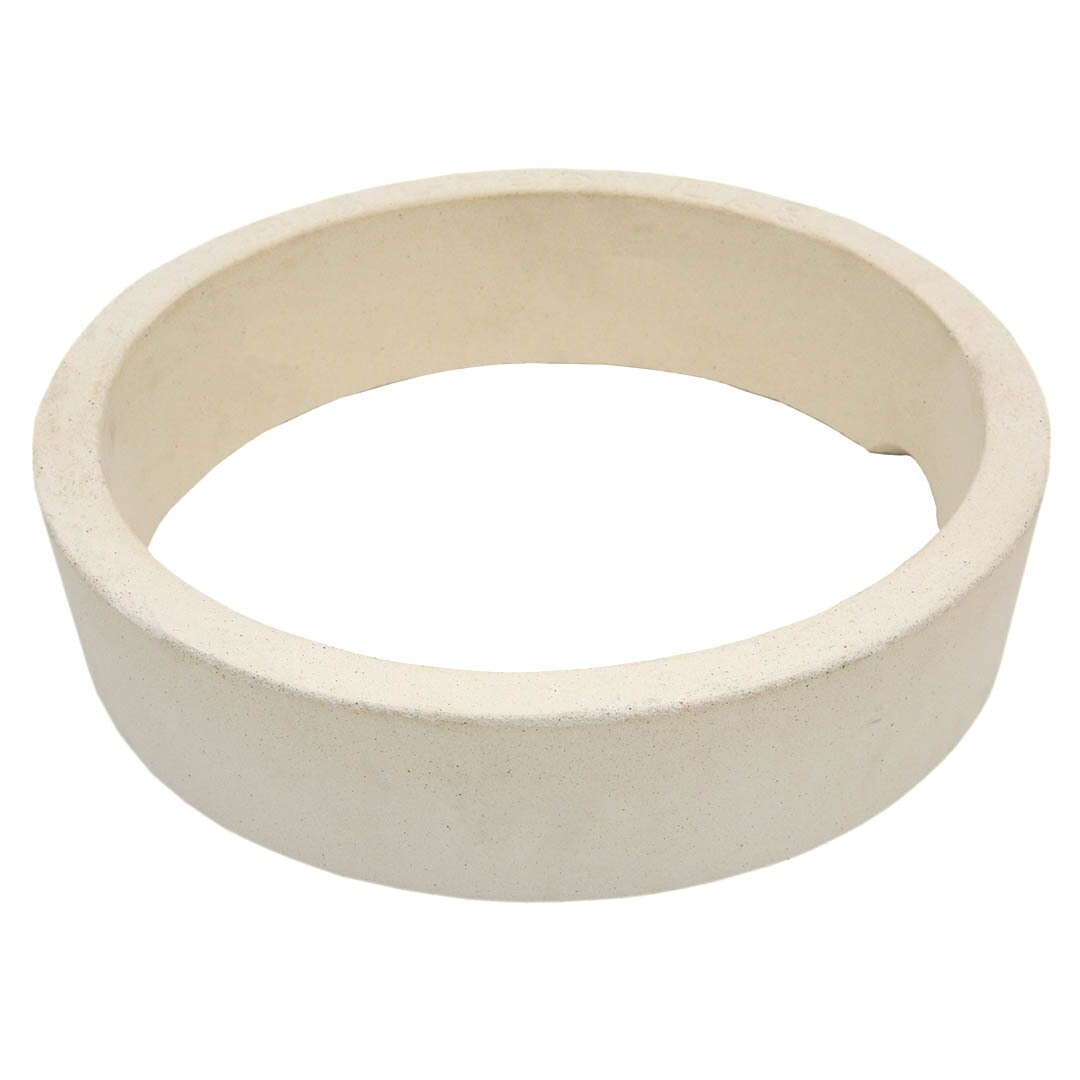 Fire ring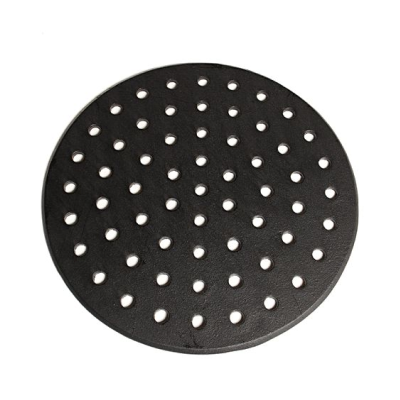 Fire grate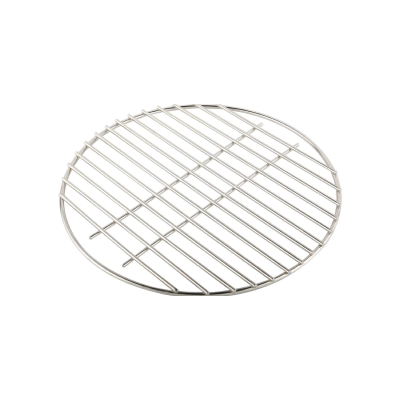 Steel Cooking Grid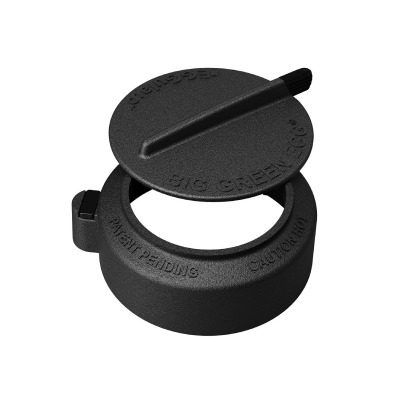 Reggulator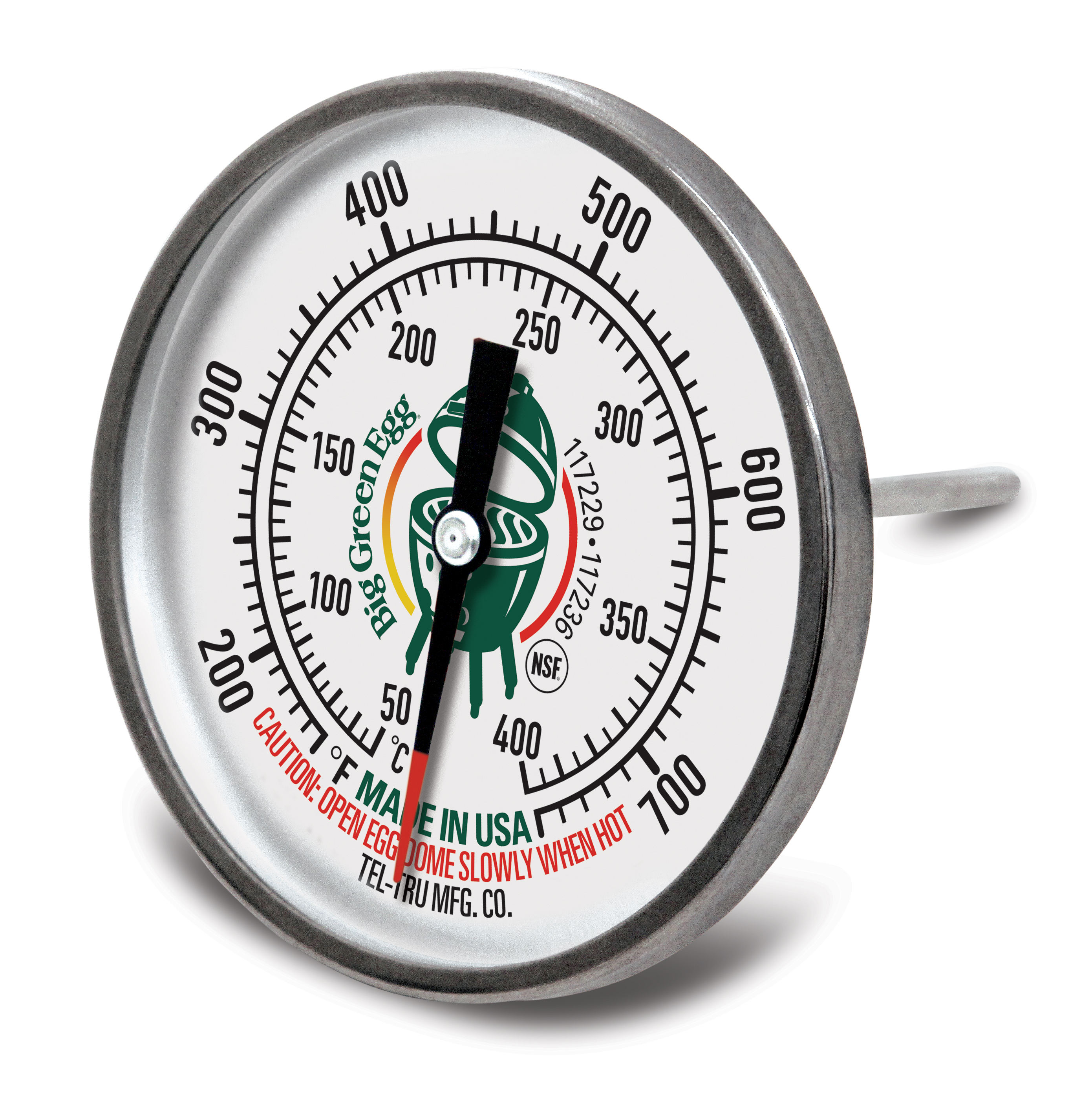 Tel-Tru Thermometer 
Dome Gauge
Free Classic Leather Apron with every EGG
Free for a limited time only! The Big Green Egg Classic Leather Apron provides the ultimate workwear for an outdoor cook: strong, light, comfortable and stylish. Multiple adjustments allow it to fits a wide range of body sizes and shapes. Designed in London and made at a small atelier in the Netherlands, it is produced from richly coloured leather that won't fade or scratch, however hard you work it. Like the EGG, this is an apron that is built to last a lifetime with a lifetime warranty to match.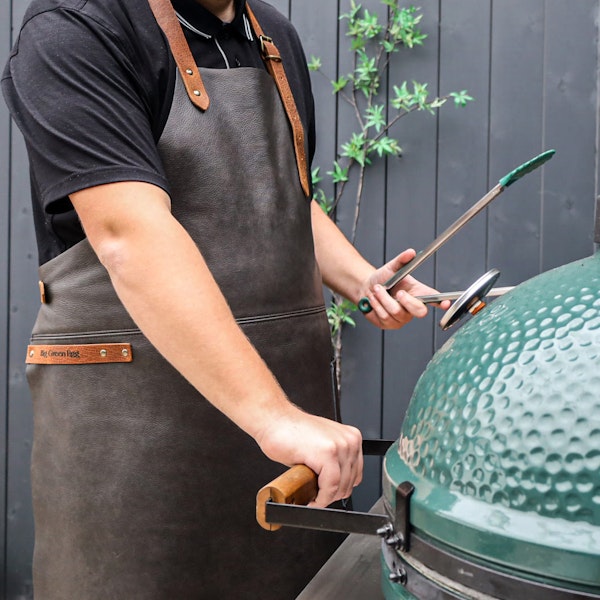 50 reviews
Brilliant piece of kit, more ceramic oven than BBQ, tho does latter too .... It's the Rolls Royce of outdoor cookers. So easy to use, fine tuning to temp is very responsive using the vents. Uses v little charcoal but what it does use imparts a sublime subtle smokiness that's less gauche than a lot of smokers

This is absolutely brilliant

Fantastic life time product.
The original outdoor oven.
Our Large EGG is wide enough to cook food for a family, plus the height means you can double your cooking surface with an EGGspander should you wish to. Handy for when friends come around.
If you can dream it, you can cook it.
The Big Green Egg allows you to make all of your favourite recipes, but better. With a world of accessories to choose from, plus a ConvEGGtor thrown in as standard, you have the ability to sear, roast, slow-cook, smoke, bake and more.
Unparalleled efficiency
Thanks to its NASA-grade ceramics and pioneering design, a Large EGG can cook for 24 hours on one load of charcoal.
Eight ways to cook. Endless possibilities.
FAQs
We were the first ceramic grill in the world to stand behind our products by offering a Limited Lifetime Warranty — something we've done for over 20 years. Today, each Big Green Egg is inspected and certified to be the highest quality product of its kind, and we continue to offer best-in-class customer service and warranty support to our customers.
Core Ceramic Components
Every Big Green Egg carries a Limited Lifetime Warranty for materials and workmanship on all ceramic components to the original purchaser or owner who has purchased the product from an Authorised Dealer.
This Warranty is valid for as long as the original purchaser owns the EGG or covered component, except for other ceramic, metal and wood components which are covered as explained below.
Other Ceramic Products:
Our ConvEGGtor and Ceramic Pizza/Baking Stones carry a Limited Three Year Warranty to the original purchaser. These ceramic components are not covered for breakage from dropping or abuse.
Metal Components:
Metal, Stainless Steel and Cast Iron components of the EGG carry a Limited Five Year Warranty to the original purchaser.
The Big Green Egg makes every effort to use materials that resist rust and we use high temperature paint on metal surfaces. However, metal materials and protective coatings can be compromised by various surface scratches or exposure to substances and conditions beyond our control. Among other things, chlorine, industrial fumes, chemicals, fertilisers, extreme humidity, lawn pesticides and salt are some of the substances that can corrode paint and finish on metal coatings. For these reasons, the Warranty on Metal, Stainless Steel and Cast Iron Components does not cover rust, oxidation, fading or other blemishes unless it also results in a loss of structural integrity or a failure of these components of the EGG.
Wood Components:
Wood items, including EGG Shelves and Big Green Egg Tables, carry a Limited One Year Warranty to the original purchaser. Wood products are not covered for normal weathering or cracks unless there is also a loss of structural integrity.
NOTE: Do not place an EGG directly on or near a combustible surface, deck, table or other support without the use of a Big Green Egg Metal Nest or Metal Table Nest, or without making use of other fireproof barrier such as a 2" concrete paver block under the EGG. Doing so will void the Warranty and we expressly disclaim any liability for any direct, indirect, incidental or consequential damage which may result.
Temperature gauge & gasket:
Gaskets and the Temperature Gauge carry a Limited One Year Warranty to the original purchaser.
What is not covered:
These Warranties are based on normal and reasonable residential use and service of the EGG. Commercial uses and related applications are excluded from Warranty coverage. Warranty does not apply to any incidental or accidental damage or breakage, or for any damage caused by:
transporting
dropping
misassembly
improper support
attempting to suspend the EGG by any means other than an approved BGE Nest or solid, non-combustible surface under the base
commercial use
modifications
alterations
negligence
abuse
improper care
road hazards
normal and reasonable wear and tear
natural disasters
Warranty coverage does not extend to scratches, dents, chips, crazing, appearances or minor cosmetic cracks of the exterior glaze that do not affect the performance of the EGG.
BIG GREEN EGGS AND RELATED BIG GREEN EGG PRODUCTS PURCHASED FROM UNAUTHORISED DEALERS, UNAUTHORISED THIRD PARTIES OR THROUGH UNAUTHORISED RETAIL CHANNELS SUCH AS DISCOUNT CLUBS AND DISCOUNT CHAIN STORES ARE NOT COVERED UNDER THIS WARRANTY
NOTE: If you purchase from an unauthorised source, even one operating as a legitimate business offering products in unopened boxes, you're buying, by legal definition, used products. Buying from an unauthorised dealer or retailer, or from an unauthorised online dealer, almost always means you're buying items without manufacturer's warranties regardless of any statements or claims this seller may make. This is the published policy of many brands and companies, not just Big Green Egg.
Coverage under the warranty:
Original Big Green Egg components that are found to have defects in materials or workmanship, and that are covered under a valid and registered Warranty, will be replaced or repaired at the sole discretion of Big Green Egg at no cost for the warranted item or component, subject to the terms and conditions of this Warranty.
Warranty Claim Procedure:
For Warranty support, contact Alfresco Concepts Ltd, the UK Distributor of the Big Green Egg. Do not ship or mail any components for a Warranty claim before contacting Alfresco Concepts, as in some cases it may not be necessary to return the warranted part.
Shipping And Delivery:
Neither Big Green Egg or Alfresco Concepts Ltd are liable for shipping, delivery charges, labor, packaging costs, export/import duties, VAT or any levied taxes resulting from any Warranty claim, service, repair or return, unless authorised in writing.
Voiding The Warranty:
Any unauthorised modifications or alterations to an EGG will void the Warranty. This includes drilling holes or tampering with any of the parts, using any parts inside the EGG other than authentic BGE components, or using any internal components in any way other than as intended by the manufacturer. Modifying or substituting any internal components, including the fire grate and fire ring, will void the Warranty, and Big Green Egg expressly disclaims any liability for any direct, indirect, incidental or consequential damage which may result. The pouring of lighter fluids or any flammable mixture onto or into an EGG will void the Warranty. This practice is dangerous and may result in damage or injury.
Delay Or Default:
We are not liable for any delay or default in Big Green Egg's performance under the Warranty caused by any event or contingency beyond our control, including, without limitation, acts of God, war, government restrictions or restraints, strikes, fire, floods, transportation delays or reduced supply of materials.
Limitations:
This Limited Warranty is non-transferable. The Big Green Egg does not authorise any person or representative to make or assume for BGE any obligation or liability in connection with the sale of any EGG or BGE product.
Warranties, whether written, oral, expressed or implied, are not extended to persons who obtain the product from any source other than the Big Green Egg or from an Authorised Big Green Egg Distributor or Dealer, or through an authorised Big Green Egg promotion. Purchasing and/or accepting delivery of any BGE product from unauthorised dealers or unauthorised online dealers will void the Warranty associated with that product. The Big Green Egg is not sold at discount clubs, discount chain stores, and any product purchased from any such retailer is not covered under Warranty. Authorised Dealers can be verified at the biggreenegg.co.uk website.
Our Obligations:
The repair or replacement of parts shall constitute the fulfilment of all Warranty obligations and/or any direct and derivative liabilities of the Big Green Egg. A purchaser's exclusive remedy for any breach of this Warranty or of any other implied Warranty is limited as outlined herein to replacement or repair of the component, shipped to purchaser at purchaser's expense.
You do. Even if you're creating your own custom kitchen, you'll need a Table Nest to prevent your EGG from burning the surface it sits on. One of these will come with any of our tables as standard.
With your EGG, you'll get a ConvEGGtor plus a Stainless Steel Grid. That means you can cook both directly and indirectly from the get-go.
If you want to enhance your indirect cooks, we'd recommend getting a Baking Stone, so that you can cook pizzas, cakes, breads, and desserts.
If you want to improve your searing, definitely pick up a Cast Iron Searing Grid. You'll get beautiful, flavourful charlines.
Some say that building our EGGs with NASA-grade ceramics is overkill. We think it's the thing that sets us apart. Better ceramic technology means better heat retention, which in turn produces a longer, more consistent cook. That's why with one batch of charcoal, a Large EGG can cook for up to 24 hours.
A Big Green Egg will last you a lifetime. Every EGG comes with a limited lifetime warranty against defects, and most accessories and components come with warranties of their own.
If you use your Big Green Egg regularly, you'll naturally experience some wear and tear over time. The good news is, unlike many of our competitors, we carry spare parts for everything you'd ever need to replace. Changing or upgrading parts is super easy, and can be done in a matter of minutes.