How to Load & Light your Big Green Egg
Getting started
The EGG is so easy to get going. Simply fill your EGG with lumwpood charcoal, place a firelighter in the centre, and you're off.
5cm below the top of the Fire Ring.
When adding charcoal to your Big Green Egg, the best rule of thumb is to stop when you're 5cm below the rim of the Fire Ring — for the right amount of clearance beneath your cooking surfaces.
Make a well. Make a teepee.
It's good firecraft to give your firelighter some space to nestle in the charcoals. Once it's in, build a little teepee of charcoal on top and light with one of our long matches or the EGGniter.
Leave it to work.
Once your firelighter is lit, just walk away. Our charcoal is so good that it'll get going all by itself. In just a few minutes, you'll have a roaring fire going.
Once your EGG is going...
After about 5-10 minutes, there will be some serious smouldering in your charcoals. At this stage, close the lid of your EGG being mindful to keep both the Draft Door and the rEGGulator Cap fully open.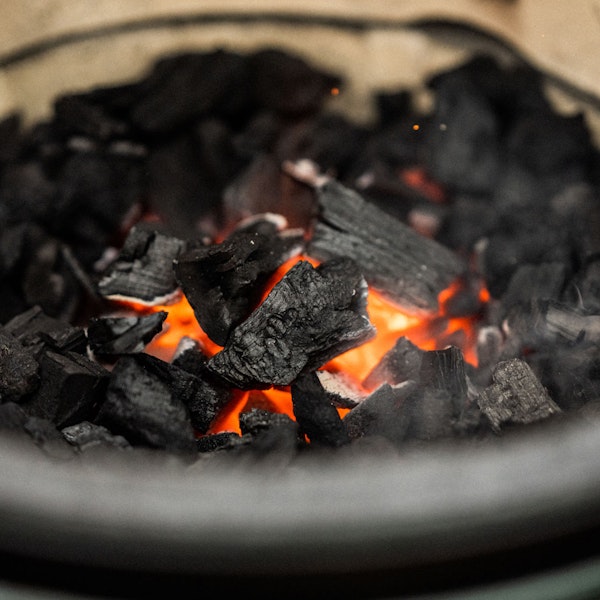 Put in your surfaces
When the EGG's ceramics start to feel hot to the touch and the thermometer is 10°C away from your recipe's target temperature, it's time to put in your chosen cooking surfaces.
Whether you're adding your ConvEGGtor and Stainless Steel Grid for indirect cooking or a Cast Iron Searing Grid for grilling, your temperature will drop slightly. Don't worry. Your EGG will self regulate and the temperature will come back up.
Once you've reached your target temperature, you can begin to adjust the Draft Door and rEGGulator in tandem. Make these adjustments in small increments for precision. Once the temperature has stopped fluctuating, you're ready to cook!