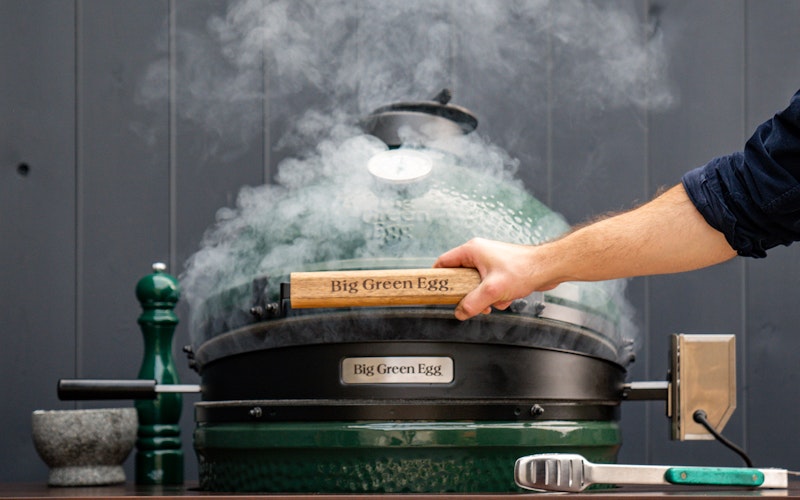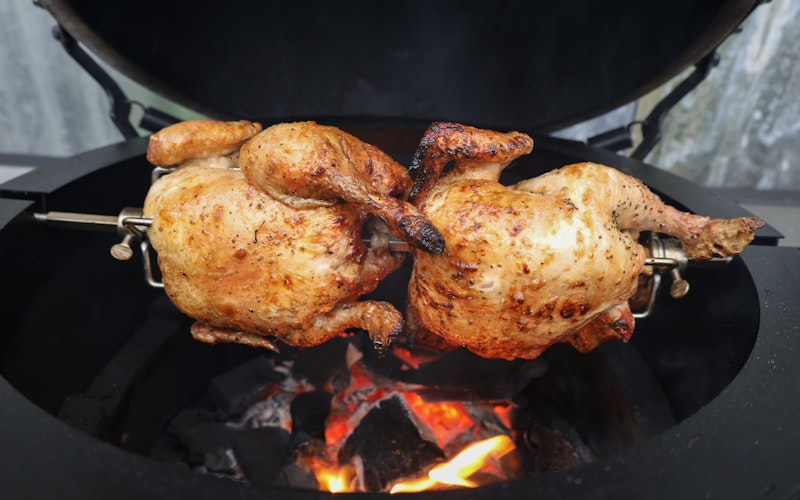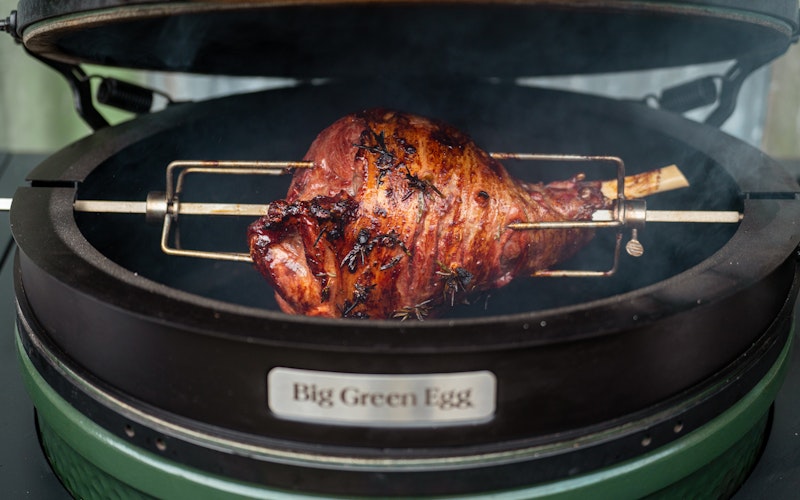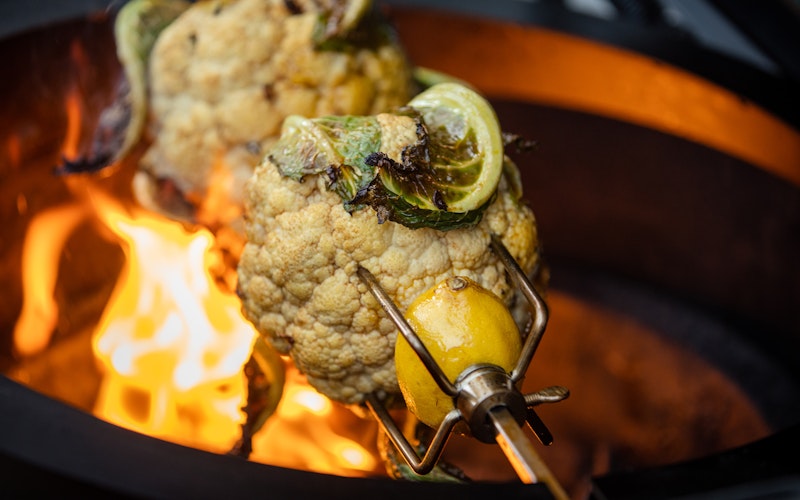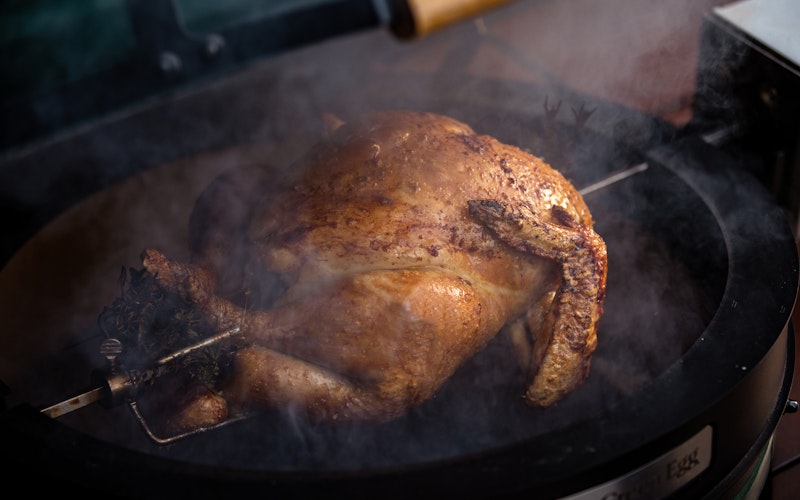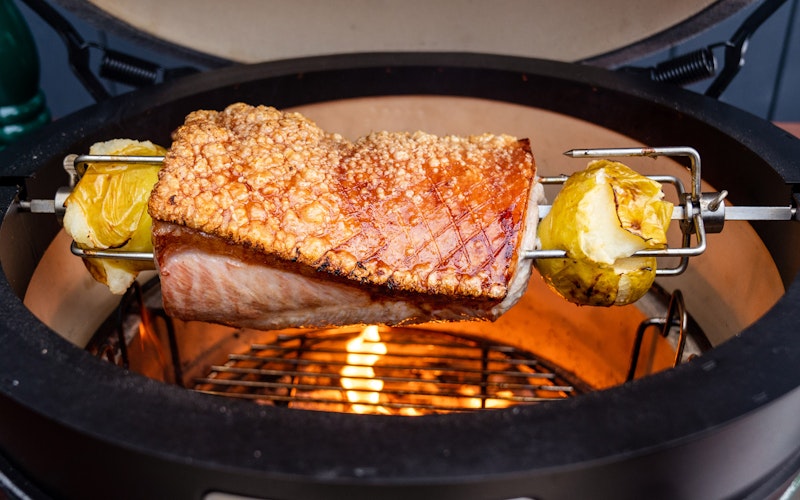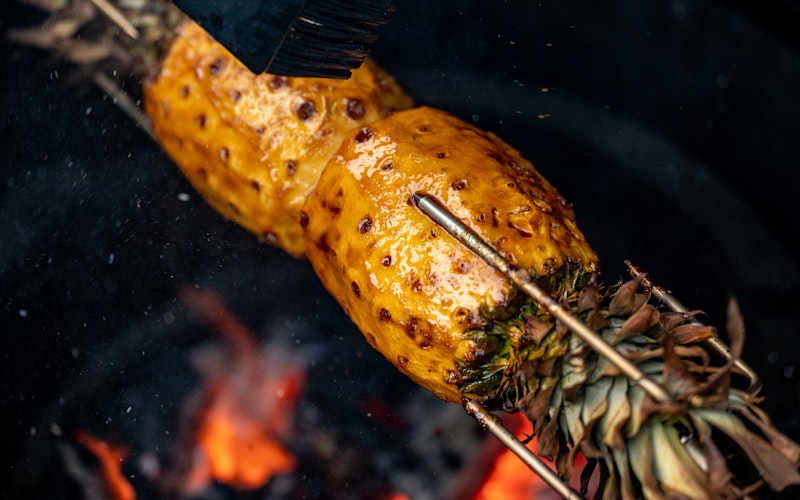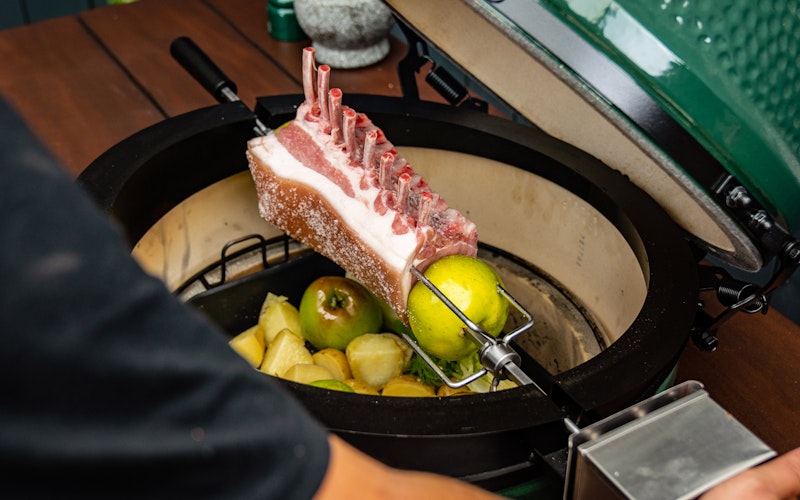 The Ultimate Big Green Egg Rotisserie Pack
So here it is. The eighth wonder.
The new Big Green Egg Ultimate Rotisserie Pack is a complete game changer. To the seven familiar cooking modes of the EGG, you can now add an eighth: spit-roasting.
Available for Large and XL EGGs, our Rotisserie allows meat, fish, vegetables or fruit to be smoothly spit-roasted over the flames. A metal spit with two adjustable forks holds the ingredients in place, powered by a motor strong enough to rotate up to 25kg of food.
As well as the main Rotisserie apparatus, the Ultimate Rotisserie Pack contains two simple attachments that allow a wider range of ingredients to benefit from the effortlessly even cooking provided by the spit's steady rotation:
Tumbler Basket
Easily fitted to the Rotisserie, a Tumbler allows for the spit-roasting of smaller ingredients such as root vegetables, prawns or chicken wings.
Flat Basket
Flat ingredients that are too shallow or delicate to be threaded onto the spit, such as a whole fish or a spatchcocked bird, can be spit-roasted inside this simple basket.
Compatible with the Large and XL Big Green Egg only.
Code: AC6451
Cooking on the original Big Green Egg rotisserie
To help you get the best out of our eighth cooking mode, we've produced some simple guides showing you how to set up the Rotisserie to cook both directly and indirectly, and how to clean it after use.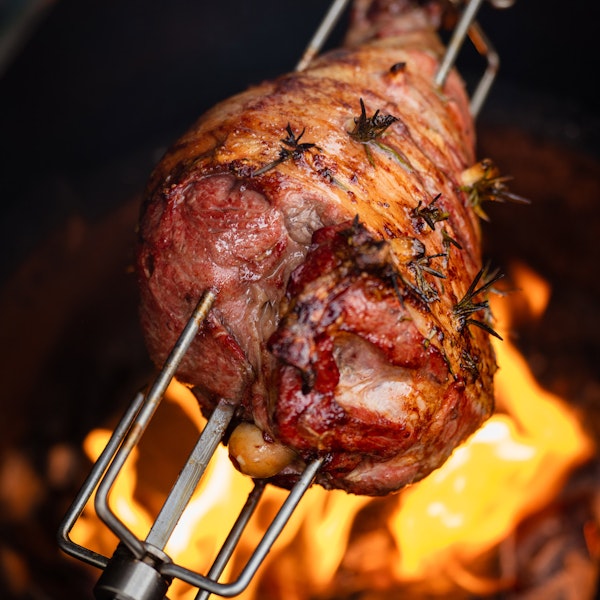 Feast upon our Rotisserie recipes
FAQs
No. It needs to be plugged into a mains source.
No. The Rotisserie is only available for a Large or XL Big Green Egg.
Not yet, but there will be very soon. We are waiting on the arrival of two different Rotisserie Baskets – one flat, one tumbler-style – which will allow you to cook an even wider range of ingredients.
Yes. The Rotisserie is compatible with all Big Green Egg Nests and Tables. However, if your Nest has shelves, it will only work if the shelves are folded down.
You can fit two medium to large chickens on the Rotisserie for the Large Big Green Egg. An XL can accommodate three.
Rotisseries are best known for the magic they can apply to meat: whole chickens and turkeys, or big cuts of pork, beef or lamb. But there are plenty of other ingredients that benefit just as much from spit roasting – they just need to be sufficiently large and robust to stay on the spit. Try a whole salmon, a cauliflower, a squash or a pineapple.
The spit can hold (and, more importantly, turn!) up to 25kg, meaning there aren't many ingredients or cuts that can't easily be accommodated. If it fits in the EGG, it can more than likely be cooked on the Rotisserie.
The basic Rotisserie includes everything you need to get started: a high capacity spit with spikes to hold your food in place, a stainless steel ring that slots over the rim of your EGG and creates a tight seal, and a powerful but quiet motor. Plug it in and away you go.
Yes. Combining the Rotisserie with an EGGspander System Multi-Level Rack opens up a whole world of possibilities when it comes to making starters, sides and sauces. Just be aware that the rack will be sitting lower in the EGG, in a tighter space than it would be without the Rotisserie in place, so you will need to work with smaller Rack, cooking surfaces and pans than usual. If you're using an XL, you'll need Large accessories. If you're using a Large, you'll need MiniMax accessories.
Yes. With the help of the EGGspander System Multi-Level Rack and a Baking Stone, you will be able to cook using our indirect modes, meaning you can roast or bake your sides while the centrepiece is turning. Be aware, though, that the Baking Stone needs to be a size smaller than the one you would usually use on your EGG: a MiniMax stone for a Large EGG, and a Large stone for an XL Big Green Egg.
No. The spit turns at a single speed.
Yes, if your dishwasher is absolutely massive! Otherwise, you can easily wash it in hot soapy water.
All of the metal parts come with a one-year warranty.